Help everyone,
This past weekend I went back to my home town roots of Ottawa, Ontario where I was the MC for the Ottawa Parenta and Child Expo.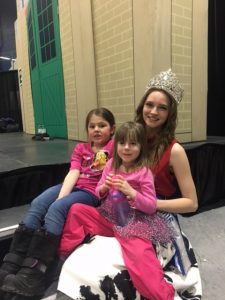 This Expo was one that I had attended last year as Miss Teenage Ottawa and it is an honour to return back again. This time, I partnered up with *insert charity name here* and Hippo in the bathtub to bring the kids a fun day of games and prizes. Hippo in the Bathtub is a brand new indoor swimming pool lesson business started by local Ottawa woman, Natalya Kwiatkowski. Other features at the events, other then the adorable kids, were the beautiful princesses, paw patrol presentations, balloon animals and magic show by Ian Quick.
I love returning to Ottawa for these amazing celebrations, especially during Canada's 150th anniversary! The Parent and child expo never fails to disappoint kids and parents.
Time to relax and watch the show! Thomas was on next!
There were so many funny stories from the weekend, although my favourite one had to be kids in the pool. This year I added a game to my booth so kids could catch a magnetic fish with a magnetic fishing rod in a pool full of Easter eggs. If you caught a fish, you could take a prize. How ever some of the kids gave up and would stick their hand into the pool, grab the fish and stick it on the end of the rod. The best part was their look up for approval. Haha so cute!
There was this adorable girl, Jasmine, who didn't want to leave my side the whole day. She kept dragging her mom back to my booth. So eventually I asked her if she would help me announce the next act.
Her and another little girl Ava, got on stage with me and when I asked them who was coming on next they yelled PAW PATROL! At the top of their lungs. It was so cute and it got all of the kids excited for the Paw Patrol characters, Marshal and Chase (who I now know everything about lol) to come out. Not so fun story – they line. Was 2.5 hours to see these paw patrols characters!!! I don't remember any show from my childhood being that big of a deal. Can you think of any kids shows that were a massive success?
All in all it was another phenomenal weekend! Thanks a bunch to Hippo In The Bathtub for helping with the game and booth ❤️.
Mucho Love!
Samantha Pierre
Miss Teenage Canada 2016