Over the last year and a half I have the amazing experience of working with Edmonton International raceway TSN, Canadian tire and NASCAR with at many of their  event as there official victory lane trophy girl.  I am so thankful for the opportunity's given  and the constant  support from NASCAR and their fan base.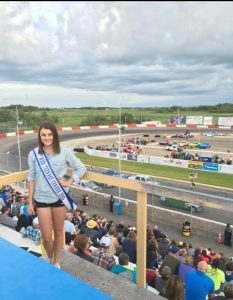 On October 17th I had the wonderful opportunity to attend  one of NASCAR's most major the events 2015  track championship gala, which was held at the memorial and award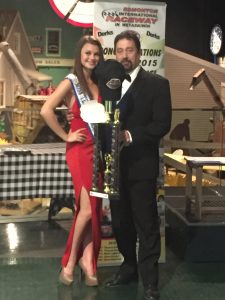 winning Reynolds museum in Wetaskiwin Alberta. Not only did i get to spend an evening presenting, interviewing and posing beside some of the best racers in the province, I also got to explore the museum- my studious mind was in awe learning about the classic tools and cars that helped shape the province I know today. My favorite part was handing the awards to the teens just liked me, I love watching young people succeed and chasing after their dreams no matter what. It just proves that age does not limit a person's success. Congratulations once again to the 2015 track champions. Check out http://www.edmontonraceway.com/ for exclusive pictures.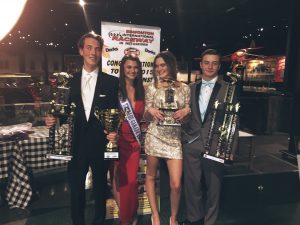 From may to september each saturday edmonton international raceway holds the NASCAR Whelen All American Series, anybody who is familiar or a fan of NASCAR knows that there are different levels and categories of it just like many other sports! The Whelen All American Series includes some of the most outstanding, unique  and fast cars such as double stalker cars and thunder cars. The track is located around 45 minutes away from my hometown and around  30 minutes away from Alberta's capital in a small town called Wetaskiwin. It was a great honor and a true blast to have spent many of my Saturdays at the track working as the victory lane trophy girl.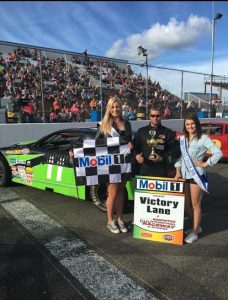 Once again thank you to Edmonton international raceway to inviting me to any of your events. To everyone I met at the track who shared your incredible stories with me, you will always be in our heart and I will never forget this amazing experience I will never forget..