With another event comes another stamp of accomplishment on my back and a jar full of joy in my heart. Throughout my reign as Miss Teenage Canada I made it a goal of mine to spread the power of education in an admit to create healthy mindsets for  younger generations- over my last year as miss teenage Canada I had the opportunity to do so through many different events throughout Alberta.   
Teen Fest
On September 26th, I had the wonderful pleasure of attending the first ever Teen Fest Alberta,  a one day exhibition for youth ages 12-18 and their families. This event gives Teens and Tweens across Canada the opportunity to connect with each other, their peers and their communities.    By creating opportunities for interaction, activities, workshops and performances for this age group, Teen Fest engaged and connected youth and their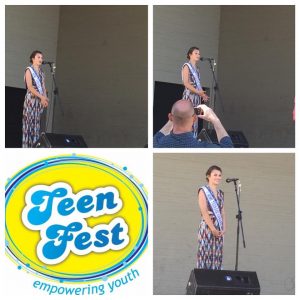 families to the businesses and organizations that support them. Besides all the fun I had exploring the many wonderful exhibitions from  photo-booths to the henna tattoos and listening to the many  amazing talents that teens from all over Alberta came to share with us. I was  very blessed to have been able to give a seminar about "following your own dreams and passions", sharing my own experiences and answering some general questions about being Miss Teenage Canada. It was amazing to have seem by words impacted others in a uplifting and positive way. Teen Fest was an overall Blast, It will definitely be an event that I will look forward to be attending again in the future.
Kerry Wood Nature- Family Day
Located in the heart of the City of Red Deer, the Kerry Wood Nature Center is adjacent to the Gaetz Lakes Sanctuary, a municipally-owned 118 hectare park and federal migratory bird sanctuary.  The Kerry Wood Nature Center offers an extensive program of natural history interpretation, major special events, school/youth group and public programs,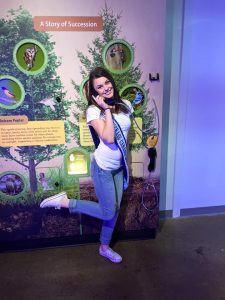 sleepovers, day camps and more. Come explore the Nature Center and see the  newly renovated exhibits, natural playground and music garden or simply go for a stroll on one of the  fabulous nature trails in the Sanctuary. The Nature Center offers many diverse programs geared towards bringing people into the many natural spaces in Red Deer and surrounding areas.
 It was a blast attending the family day expo. The expo showcased  Peter Puffin the award winning educator, and internationally acclaimed family entertainer who uses music to celebrate caring for the environment and each other, community building, and the wonderful world we live in, Peter taps the wonderful power of music to inspire kids and grown-ups to discover creativity and talents, and celebrate: environmental literacy, values education, boosting self esteem, multiple intelligence's, peace making, community building and lifelong learning! Not only did I get to listen to peters amazing show but I also got my hands dirty leading the childerns touch , build and play session, where children had the opportunity to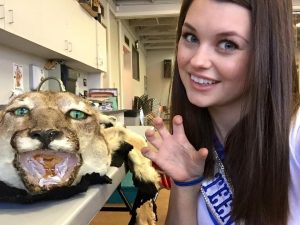 learn about farming, animals and fruits and even dig there own dinosaurs, education is power in our society today today and I was glad to have aided in such an event that helped empower young minds to be active citizens when it comes to our environment. Of course I loved exploring the new exhibits as it changed so much since I was a Child.  Kerry Wood Nature Center  is such an important part of our community for many reasons, and often times very much overlooked. Help me keep the center alive by volunteering, donating or promoting the center. 
Festival of Trees MC
The Festival of Trees is an event that I have been volunteering with yearly since a young age. The festival of Trees brings the Christmas spirit  to Central Alberta  by offering a wide amount of special events  to their  guests  of all ages to come socialize, have fun, and support healthcare for the Red Deer Regional Hospital Center. To Date the Festival as Raised over 12,930,513. Funds raised at the Festival of Trees go to a specific department at our local Red Deer Regional Hospital Center. Each year the receiving department is specially chosen based on the needs and demands of our hospital! This year it was a true honor to be the festivals MC for a day, not only did I get to enjoy the festivals magic but I got to watch and meet the amazing children that were preforming.  I loved watching  the children share their amazing talents for a great cause.
Pay it Forward 
My MTC Opening dress made it safe and sound in Cuba and into the hands of 18 year old l Aliyanis de la caridad Rodriguez Garcia, A 17 year old university student who has been battling leukemia since she was 13. I had the pleasure of meeting this amazing young women when I traveled to Cuba in 2013! she is looking forward to strutting this beautiful dress on her 18th birthday!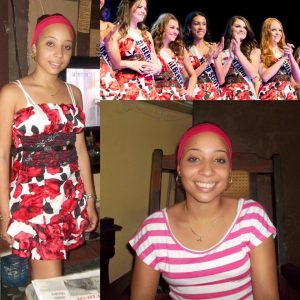 Something as simple as saying Merry Christmas to somebody is enough to make their Christmas a little bit brighter.  Thank you gabby umphervillie for contacting me to help with this project so happy I could make somebody's Christmas brighter in such a simple way.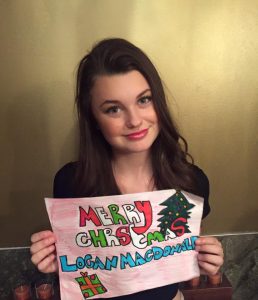 Paying it forward is about caring and sharing. Its about compassion and kindness and its about generosity, Its all about sacrifice  and love. You get what you give so give good. Paying it Forward is a quality that is very much overlooked by our society today, showcasing the importance and the simplicity of what it takes to make a difference in a persons life is something I that I can inspire  young children to take away from my examples.
-Sarah Wojcik- Miss Teenage Canada 2015