Bus loads full of Miss Teen Canada 2012 pageant girls – and last year's gorgeous winner Lauren Howe – rolled up to the Toronto Eaton Centre for an afternoon of dining and shopping.  These girls were ready to shop until they dropped!  The Toronto Eaton Centre was so kind to provide each girl with her own $50 gift card that could be used in any of the malls 150+ stores including the  food court.   Of course , his had the girls smiling from ear to ear.  Many of the 66 contestant are from other provinces and small town's that don't have large shopping malls, so the opportunity to visit the famous Toronto Eaton Centre was a dream come true.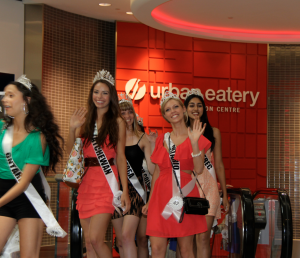 It's hard to shop on an empty tummy so it was imperative to get the girls fueled up before the shopping extravaganza.   First stop on the adventure was, the Toronto Eaton centre's Urban Eatery –  which has put a fresh new spin of food courts.  The Urban Eatery offers twenty-four self-service restaurants

with a huge variety of menus — from Thai dishes, Pizza,  gourmet burgers, Indian cuisine and vegan meal options.  This modern contemporary food court is found on the concourse level closest to the Dundas Subway entrance.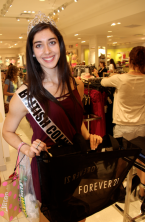 Once their bellies were full it was time shop, but not before a few group photo ops.  The young ladies dressed to kill wearing crown and sashes don't easily go unnoticed.  Crowds of people gathered around the  contestants hoping to catch a glimpse and/or snap a photo or two.  Once the media photos were complete the ladies broke off  into groups for a little retail therapy, ducking into store such as Victoria's Secret, Apple, Aritzia, Roots, Forever 21 and Sephora, to name  a few.  All these stores under one roof is enough to make any teen girl feel like she's died and gone to heaven.  Needless to say,  not a girl left the Eaton Centre without a purchase in hand.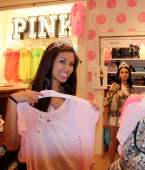 Next stop…Much Music for NEW.MUSIC.LIVE…Stay tuned