On Tuesday July 17th the girls woke up extra early to join the BT crew for a morning of special talents and name games.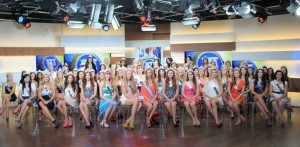 After a brief chat with some of the contestants about their special talents.  The bubbly Breakfast Television Co- Host Jennifer Valentyne announced that she also had a  special talent of her own.   She said " I can remember first names"
Of course, in true BT fashion, quick witted co-host Kevin Frankish challenged Jennifer

to memorize all the first names of each of the 64  finalists in just 10 minutes.  Valentyne, eagerly accepted the challenge and quickly got down to business asking each girl her name.  Her Trick, she says,  is to try to associate the name with something or someone familiar.
The show went to a break, and the clock was on .. When the ten minutes were up, the show went live and to much amazement,  Jennifer,  correctly announced the name of 60 of the 64 finalists.   Everyone was thrilled.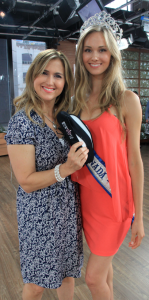 After the segment  Miss Teenage Canada 2011 winner,  Lauren Howe presented Jennifer with her very own pair of Miss Teen Canada 2012 Salazzo Slippers www.Salllazo.com<
On behalf of all the Miss Teenage Canada contestants, we would like to thank Jennifer Valentyne, Kevin Frankish, April Kalloo and Janina Palhares for their warm and cheerful hospitality.
Come show your support and help welcome the new Miss Teenage Canada on July 21st 2012 at the Queen Elizabeth Theatre in Toronto.  You can purchase tickets at http://tickets.ticketwindow.ca/eventperformances.asp?evt=1376&c=93&pg.  It's going to be a night of glitz and glam.