On May 1st, a wildfire broke out in the Alberta city of Fort Mcmurray,  it swept through the community, destroying approximately 2,400 homes and buildings and forcing the largest wildfire evacuation in Alberta History. It continued to spread across  North Alberta and into Saskatchewan, consuming forested areas and impacting Athabasca Oil sands, which is a major source of income for many Alberta families. The fire spread across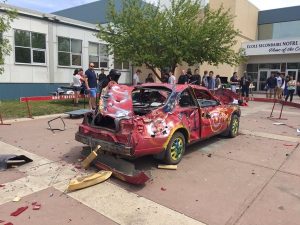 approximately 590,000 hectares before it was declared to be under control on July 5. The province Alberta declared to be under a state of emergency, having a tragedy  this happen so close to home, it only makes sense that as a school community we come together as one to help the victims of this tragedy.
Being an active member on student council, it was a pleasure aiding in the creation of a "smash a car event" that took place june 1st, Activities also includes  a hot dog sale, bottle sale and a wear a hat for a day. The event was a huge success rasing  1,500 dollars,  that were given family that lost their home to the fire that were currently residing in Red Deer.