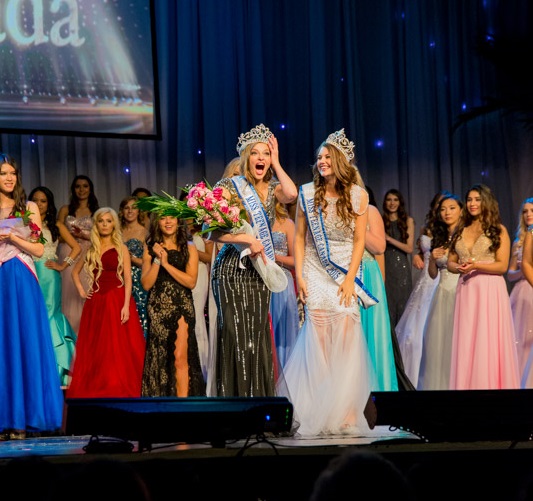 Congratulations Samantha Pierre.  The 2016 Search for Miss Teenage Canada came to its dramatic conclusion on Sunday July 24th in a packed house at the Queen Elizabeth Theatre in Exhibition Place Toronto as the Hosts, Ricardo Hoyos, and Delaney Holley a Canadian singer opened the envelope and announced that Samantha Pierre (Miss Teenage Ottawa 2016) had won the competition and would be the new national titleholder. The Judge's votes were final, and Samantha had won, narrowly defeating Chloe, Miss Teen Alberta who will be this year's first runner up.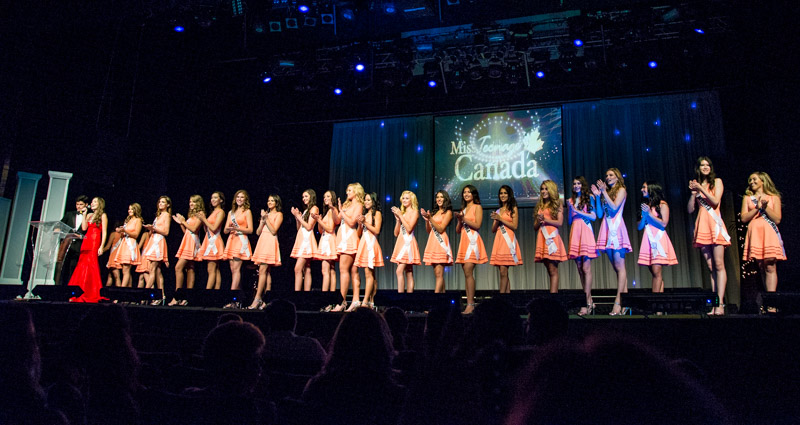 Degrassi star Ricardo Hoyos and singer Delaney Holley did a great job hosting the 2016 live event.
Hosts Ricardo Hoyos, a Degrassi star, and Delaney Holley a local singer songwriter really built up the drama at the end of the night.
At 10:30 pm, after all the Judges' scores were tallied, Samantha Pierre clinched the title and received all the glory encapsulated in having the official crown and sash conferred upon her by last year's titleholder. Samantha also won a ton of amazing prizes from sponsors totaling well over twelve thousand dollars worth of goods and services, trips, clothes and a hoard of make-up and jewelry. This is a big deal for her – she has one year to sprout and shine as a junior celebrity in the difficult Canadian media market.
Here are the top five delegates, Hanna, Chloe, Kathleen, Samantha and Precious.
The Queen Elizabeth Theatre in Toronto roared with applause as Samantha's new title was announced.

There were about four hundred people in the audience and everyone there was cheering for one or another of the fifty-four delegates in the show.  Whenever that person appeared on stage they hollered their support. Delegates from faraway places who had no cheering section present on Sunday had to be content knowing that another five thousand people or more were watching the show online via Facebook Live Stream and cheering their city's delegate or friend from their region. The entire production was also video recorded of course, and in time the show will be made available as high quality DVD or online download.
The Annual Search for Miss Teenage Canada Tests Beauty, Brains and Blogging Skills?
Its a fact this competition is the only national level talent search in the world where as many as sixty five competitors must keep a WordPress blog and write out their weekly adventures as regional titleholders and upload original photography of their own events. And they must raise money for charities and use their social media channels to promote their own and other charity events in their region.
The delegates who really shine in Toronto are the natural performers who have special abilities like playing piano, juggling, singing or doing stand-up comedy. The young lady that won the 2016 crown on Sunday night has many remarkable talents…
Miss Teenage Ottawa 2016, Samantha Pierre won the crown and sash because she was exceptional from the first moment she arrived in Toronto. She will be the new Miss Teenage Canada 2016 and represent Canada at international competitions.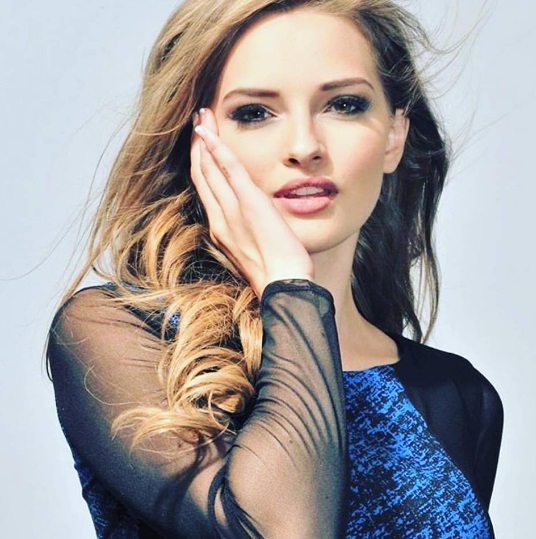 Samantha Pierre is just eighteen years old; this is her first national competition. She has appeared on stage before, but as a singer and stand-up comedian at community events.
Her musical comedy number, a song & dance routine performed on the national stage on Sunday night went off without a hitch, and stood in sharp contrast to the fashion beauty parade that was otherwise being presented. In her comedy act, Sam wore giant Pikachu (a Pokemon character) slippers and a sports jersey and sang a funny song about not getting any sleep in a new apartment surrounded by colorful characters. It was a high quality musical – theatre style dance number and a very impressive soliloquy by any standard. By doing this she demonstrated her incredible talent and her powerful stage presence in a live spectacle that ensured all the Judges knew her name going forward.
Other notable performances included a song from Evangeline Miss Teenage Vancouver 2016, and a piano recital that was incredibly complex and yet performed perfectly by Rachel Butler, Miss Teenage North Calgary.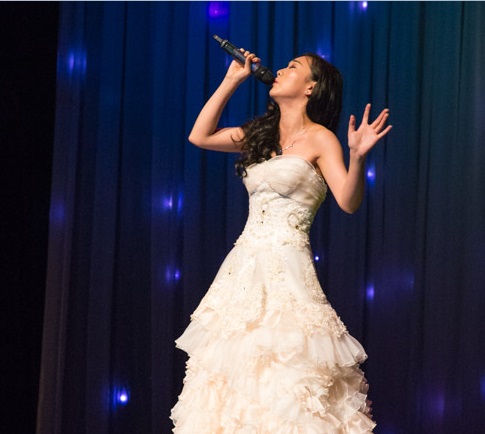 Judges are a diverse mixture of tastemakers from all across Canada.
Angeline McDonald is the owner of Bells & Bows Bridal Centre in Alberta. She's an accomplished businesswoman and premier supplier of pageant, graduation and bridal gowns. She has been in the bridal industry for over 20 years and has been judging this competition for ten.
Maureen Fenn (Moe) was at one time the Executive Director of the largest modeling and acting academy in North America.
Bradlee Ryall and Rudy Blair are Athletic and Entertainment Professionals in Toronto
Bradlee Ryall is one of Canada's most celebrated golf professionals and an absolute wizard at teaching golf lessons to junior golfers at the Bradlee Ryall Golf Academy at Lionhead and Royal Ontario golf courses where the 2016 Miss Teenage Canada delegates went golfing Weds July 20th morning. Bradlee specializes in coaching teen golfers competing for golf scholarships at major American universities. Training these young athletes comes naturally to him because it wasn't that long ago he was competing and winning titles all over the world. This semi-famous golf pro is also the co-founder of SWING active wear clothing line for Junior Golfers with his wife Courtney Ryall.
Rudy Blair is a local celebrity radio host, TV actor and well known public speaker, he's been 'on air' for almost 30 years.
Twenty-three of those years were with 680News as the Music & Entertainment Reporter and during that time he interviewed some of the biggest artists in music, including Beyonce, Jay Z, Ed Sheeran, Katy Perry, Lorde, Gordon Lightfoot, Tony Bennett and Tim McGraw and covered major events, such as The Grammys, Junos, Much Music Video Awards, The Canadian Screen Award and Canada's Walk Of Fame. Rudy has been honoured with sixteen Radio-Television News Directors Association National and Regional Awards.
Anna Golja is a Canadian actress who most recently starred in a feature film called "Full Out", an inspirational sports drama that aired on NBC, Family Channel and is now on Netflix . She's currently staring as Zoe Rivas in the Emmy nominated drama, Degrassi which airs on MTV Canada and TeenNick.
Taveeta Szymanowicz is a young commercial artist from Toronto, who began dancing at the age of six and has trained intensively in a variety of styles. Like all the Judges she has a large social media following and you can find her @TAVEETA_ on Twitter.
Julia Tomasone is an actress and singer who landed her breakthrough role as "Bianca Blackwell" in the Disney Channel series Backstage.
Kyal Legend is best known for her portrayal of "Julie Maslany" in the series 'Backstage' now airing on Family Channel. She's a talented actress, dancer,and singer who has toured with Nellly Furtado. When she was a teenager, Kyal trained at The National Ballet of Canada and attended the Alvin Ailey American Dance Theater school in New York City. On Instagram, Twitter, and Facebook she's found at @kyallegend.
John Macintosh is a social entrepreneur and the Founder and CEO of Hashtagio.com, a social media content aggregation solution that quickly and easily shares any organizations' best moments on their website.
These nine Judges had a very difficult job to be sure. Even though the fifty four competitors were reduced to a Top 20 grouping at the start of the night, they still had a lot of options to weigh before selecting Samantha who shone so bright from start to finish.
Afterwards there was a photography free-for-all in the lobby of the Queen Elizabeth Theatre in Toronto.
Ricardo had a blast to be sure, and he must have drove the PR people crazy as he let the meter run on the cab outside, sticking around in the lobby of the theatre posing for pictures with each of the top five delegates, their families and friends.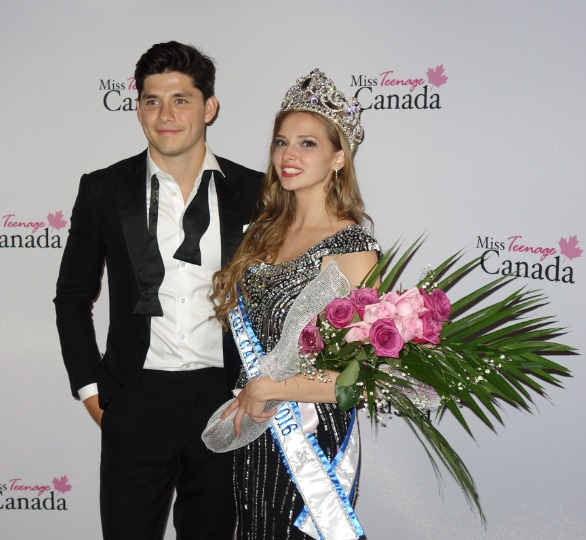 So let us all congratulate Samantha Pierre again, and maybe set a Google Alert on her name to get updates on her quest for an international crown in August.
One thing is certain; Samantha has her own style, and will stand out wherever she exhibits her personality and powerful stage presence.
Save
Save
Save
Save
Save
Save
Save
Save
Save
Save
Save
Save
Save
Save
Save
Save
Save
Save
Save
Save
Save
Save
Save
Save
Save
Save
Save
Save
Save
Save
Save