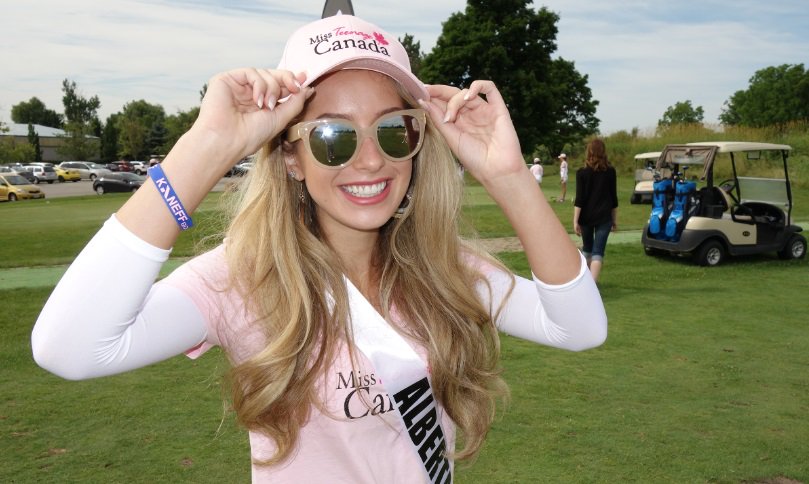 On Wednesday July 20th at 9:30 am, the 2016 Search for Miss Teenage Canada got golf lessons at Bradlee Ryall Golf Academy which runs a wide variety of Junior Summer Golf Camps, adult golf clinics and offers private lessons for golfers at six different Kaneff Golf Courses west of Toronto.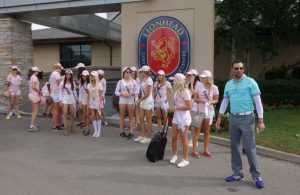 Bradlee Ryall himself was on hand to welcome the thirty two delegates who exited the bus at Lionhead Golf Course, at 8525 Mississauga Rd.  The remaining ladies who stayed on the bus soon found themselves at Royal Ontario Golf Course on Trafalgar Rd.  Both groups had a brilliant day whacking balls and being taught the essentials of golf, The Greatest Game.
Golf is probably the perfect sport for the Miss Teenage Canada competitors to practice before they square off against each other on stage next Sunday night.  This sport teaches persistence, honesty and grace. A golfer's posture matters; how a player stands and how well they pivot their body affects how far each player can hit the ball, and a player's stance on the golf green can also affect their putting.
So on this really hot July morning, Ryall Golf was subdivided into three distinctly different skills training centers. The delegates were taught driving, putting the ball and chipping, along with many of the finer points related to the mechanics of a good golf swing.
Here's Bradlee Ryall himself leading the first squad at the driving range, which just happens to include Sarah Wojcik, the 2015 Miss Teenage Canada titleholder.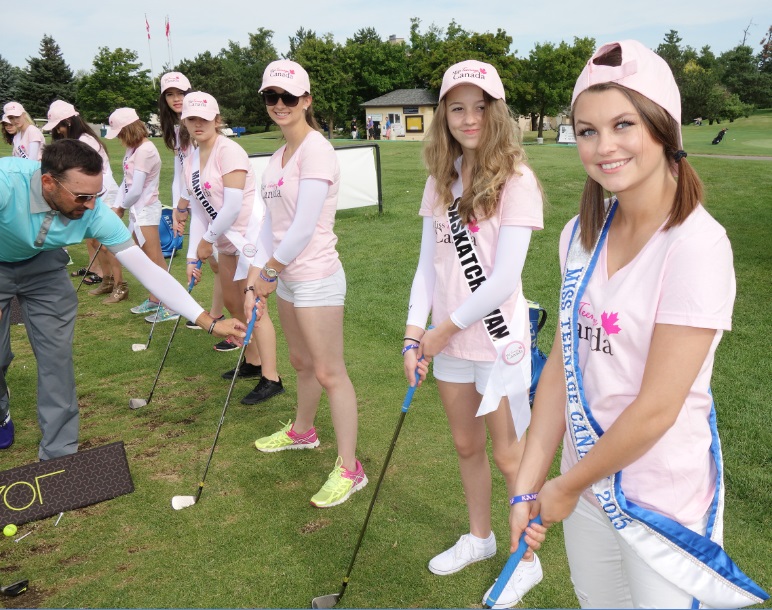 Here's Bradlee at work making sure each Delegate is gripping the club correctly which is fundamental to having a good golf swing.   Such is his dedication to teaching golf, Bradlee is working out how best to impart this knowledge and other essential skills most efficiently in this introductory session. His purpose on Earth is to give good golf habits to young enthusiasts, and help shape a swing that will benefit their game for the rest of their lives.
Forty meters away, at the chipping station for lack of a better description, CPGA Golf Instructor Steve Molpy did his best to communicate the subtleties of the golf swing body pivot.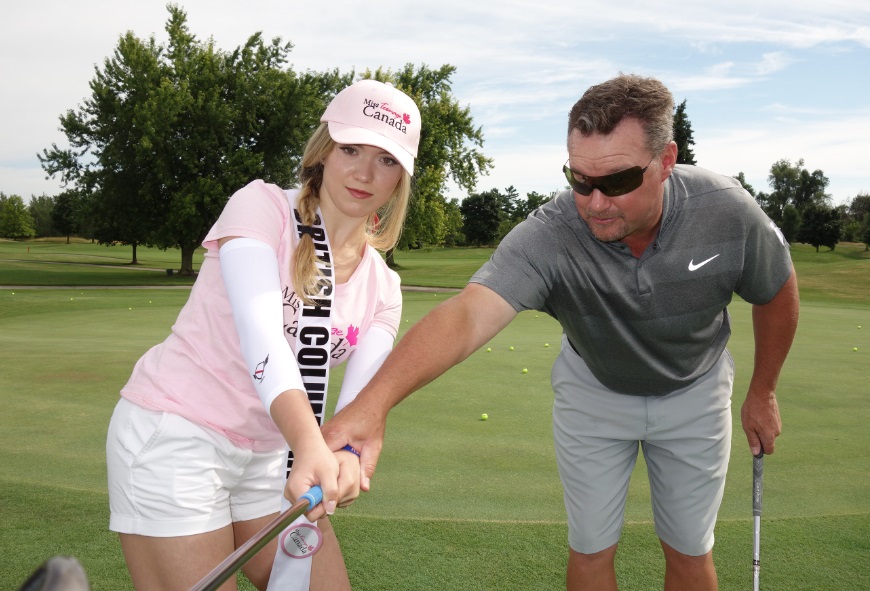 Steve demonstrated how golfers can transfer power from many different muscles into their swing, and also improve their accuracy by using more of their body in their game.
Below, Jon is running the putting workshop which is probably the training center that benefits most from a little healthy competition.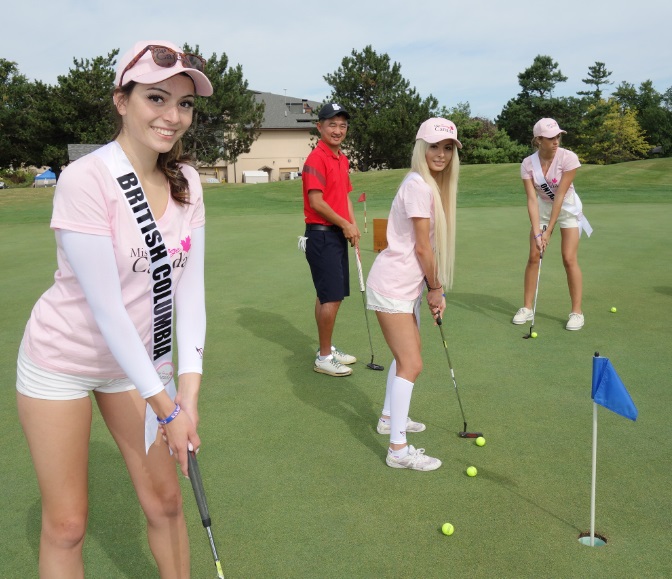 At this station the Delegates were frequently set against each to see how many balls they could each get close to a hole, from any given distance, and then Jon would circle around showing each player how to improve their posture will demonstrating better putting techniques.
Meanwhile over at Royal Ontario Golf Course, much the same thing was happening but with different instructors on different terrain.  Here's Ian at the Driving Range working with delegates, helping them find their power stance and swing at the driving range.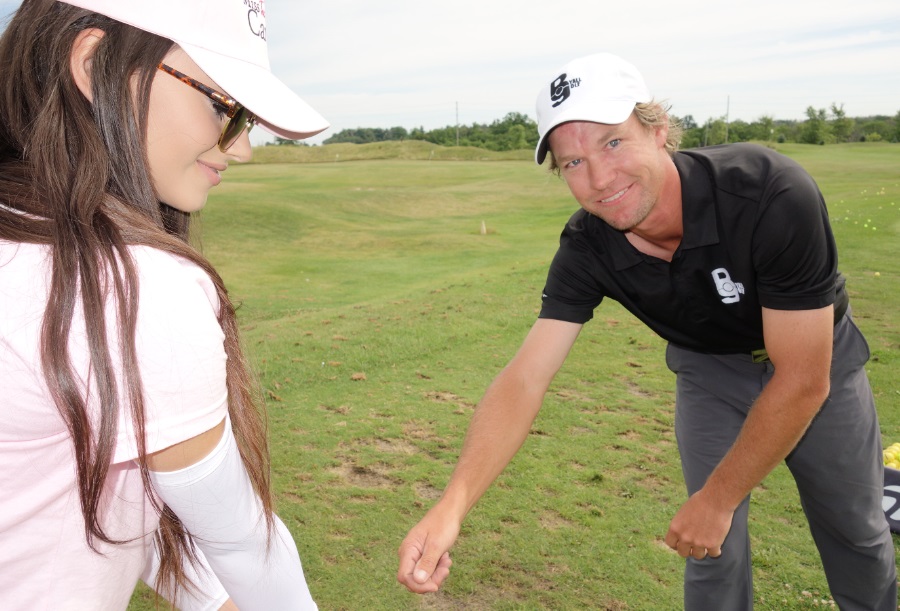 And below Chris is running the chipping station and at this moment communicating some complicated insights concerning the club head and face to Kathleen, 2016 Miss Teenage Eastern Ontario, who wrote about her day with pictures on her blog.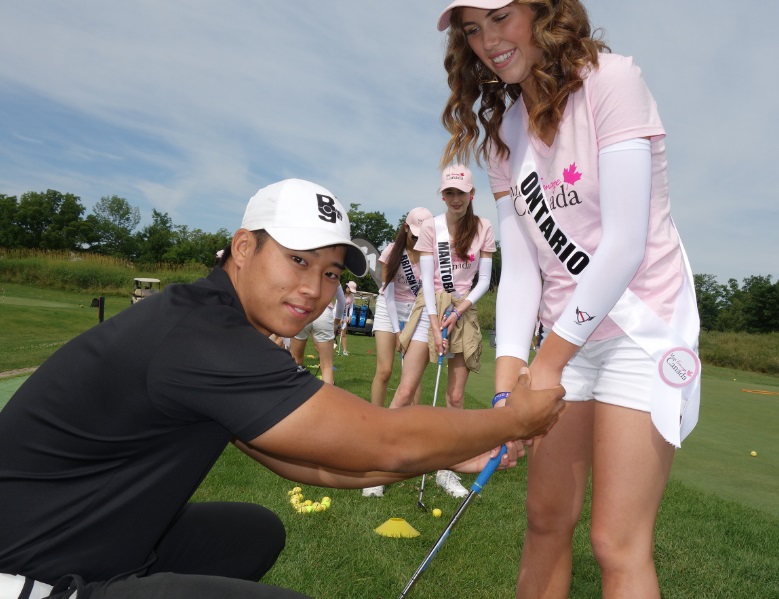 And the heartbeat of the organization, the individual many patrons believe to be the most charismatic CPGA Golf Instructor at the Royal Ontario academy, Mario was manning the putting station, teaching the basics of the 'short game' by making each player practice more precise putts.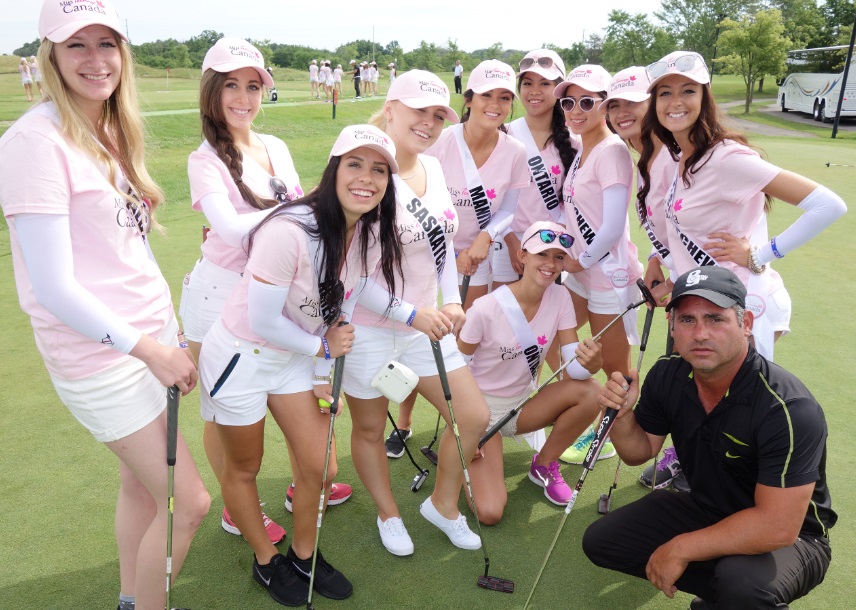 And so it was, the morning passed without any serious accidents.
The One Hole Golf Game
At 11am, after a fifteen minute bathroom break, it was time to play the shortest game of golf possible – a one hole game. And on both courses this was advertised as a prize game although the reward was kept secret.
All the skills workshops squads reassembled and walked to the most convenient link. One by one each delegate took her turn at the tee and had two chances at whacking the ball down the fairway.
Although the game was designed to play out over the length of one hole and come to a dramatic conclusion on the green opposite the clubhouse, one delegate proved herself so superior to all other contenders at Lionhead that she was declared the winner, immediately after tee-off.
Congratulations Jordan from Brandon Manitoba who won the short game at Lionhead, and … also congratulations to the winner at Royal Ontario.
First thing Bradlee did was give Jordan a red hat, which is a mark of distinction in his golf academy.
The lunch celebrations commenced at Iggy's restaurant in Lionhead with Jordan being further recognized by Bradlee Ryall and the Kaneff Golf organization as Miss Teenage Lionhead 2016.  Here she received a SWING junior golfers jacket (to compliment the SWING armbands Bradlee gave the entire assembly earlier) and a bouquet of roses from the operations manager at the golf course.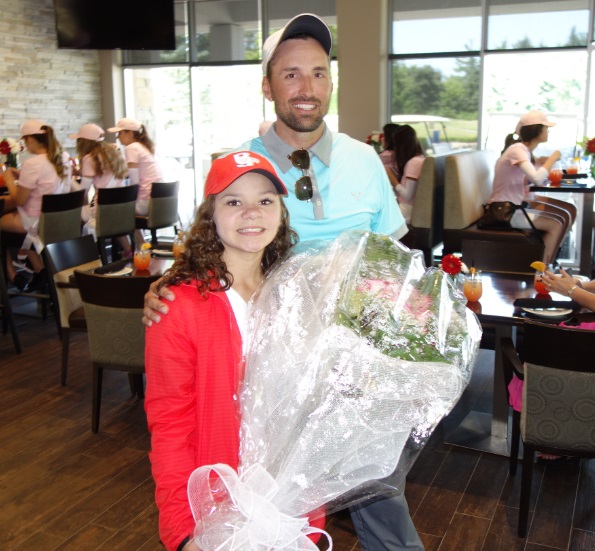 Jordan reported afterwards that her dad was a pretty serious golfer and this would make him real proud.  The social media director took some shots with Jordan's own iphone so she could email the news and post the pics on her Facebook right away.
Lunch at Iggy's in Lionhead Absolutely Blew the Delegates Away!
Preceded by tangy citrus punch designed to cool the delegates down after a morning outside in the hot sun, the cheesy pizza, mini hamburger sliders, seafood tacos and breaded shrimp prepared by Iggy's at Lionhead was simply amazing.
When lunch was set out on the marble counter top in Iggy's restaurant, it was, in a word, perfect.
Super huge thanks to Bradlee Ryall and all the CPGA golf instructors, Jon, Chris, Ian, Mario and Graham Russel at the Bradlee Ryall Golf Academy.
*Rumour is that Bradlee Ryall has agreed to be a Panel Judge in the Grande Finale as the 2016 Search for Miss Teenage Canada concludes on Sunday July 24th 2016. So this isn't the last we'll see his face here.    Good luck to all delegates.
Save
Save
Save
Save
Save
Save
Save
Save
Save
Save
Save
Save
Save
Save