This photo was taken after I visited Victoria for the Miss Teen B.C. pageant. That weekend, nine girls from British Columbia qualified for the 2009 Search For Miss Teen Canada World which will be held here in Toronto July 25th at the John Bassett Theatre in the Metro Tornto Convention Center.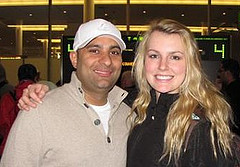 On the way back, Russell Peters was on my plane and I got this picture with him while we waited for our luggage together in Toronto. He's a very funny guy and was cracking jokes and making me laugh the whole time. I hope we meet again someday.
This photo was the centerpiece of the first blog I ever wrote, and one that still hasn't appeared on Canada Blog Friends.
The story of me learning how to blog is however on Rob Campbell's Smojoe blog.