Saturday (April 11th) myself and my sister Melanie went down to the Air Canada Centre in downtown Toronto to watch the Toronto Maple Leafs battle for last place against the Ottawa Senators; it was their last game of the season. The Leafs won 5-2 and Devereaux got a hat trick!

We were sitting in my dad's usual seats – Section 102, Row 12, seats 7 & 8 – right behind the home net; sadly, (as far as we know) we didn't get on the jumbo-tron.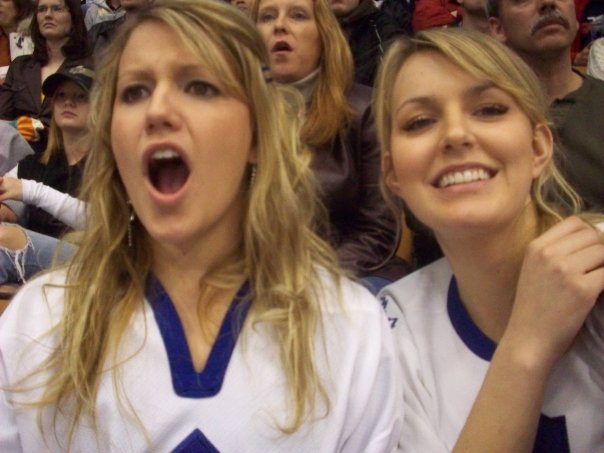 During the first intermission we met up with some friends – Aaron and Cody – that were at the game too and we ran into a girl, that plays on my other sisters hockey team, and her dad that recognized us by "Starke" across the back of my sister's Maple Leafs' jersey.
During the second intermission, random guys from Saskatchewan wanted to take our pictures in their team sweaters. I was kind of hesitant at first, but eventually we ended up posing for them in their Eatonia Wheat Kings sweaters.
Now my picture appears on their website http://eatoniawheatkings.klarenbach.ca/ which is okay I suppose. They were cool and it's a funny story to tell friends!