I've never before been to the east coast of Canada until this past weekend when I was able to travel to Newfoundland and Labrador for their Miss Teen pageant. I must say, what an incredible first impression from the spectacular scenery to the warm, welcoming people.
 The first day I arrived, I was greeted in the most welcoming tradition by being
"Screeched in". For those of you who don't know what this means, it is a way to become an "Honorary Newfoundlander" for all those who were not born there. The ceremony includes repeating Newfoundland slang and kissing a fish on the lips.
Please do me a favor and google images of what a thawed out fish looks like in the face and try to imagine what it would be like to lock lips with that.
That night, all the girls went bowling followed by a trip to the famous Signal Hill. The view there was breathtaking, one side facing St. John and the other out to the Atlantic Ocean. I suppose I have always been a water type of girl so I simply loved the view looking out at the coast.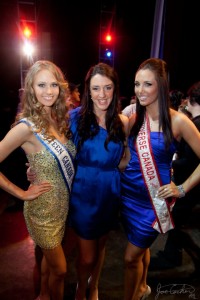 What I love most about this pageant is how different it is and how they look at so many qualities that the contestants hold.  This includes the girls having to write an academic test, take a fitness test and compete in casual wear competition in place of swimsuit. My personal favorite is the fitness test because this is such a good way to determine how healthy one's lifestyle is.  So many of the girls are also incredibly talented from playing piano to singing which were all performed in a seperate Talent Competition.  
 There were so many people who took part in the Miss Teen Newfoundland and Labrador pageant. I want to say thank you to everyone who made this past weekend incredible – thank you so much to Isabelle and Chris Fry, everyone on the MTNL committee, all of the sponsors and to the amazing girls who were competing for the title. Without all of you, my experience would have been nowhere near as amazing. I hope to see you all in the near future! 
Congratulations once again to all the winners and to the new Miss Teen Newfoundland and Labrador – Emily Bland of Grand-Windsor Falls! This talented lady also won the Miss Teen Academic and Talent awards that night!