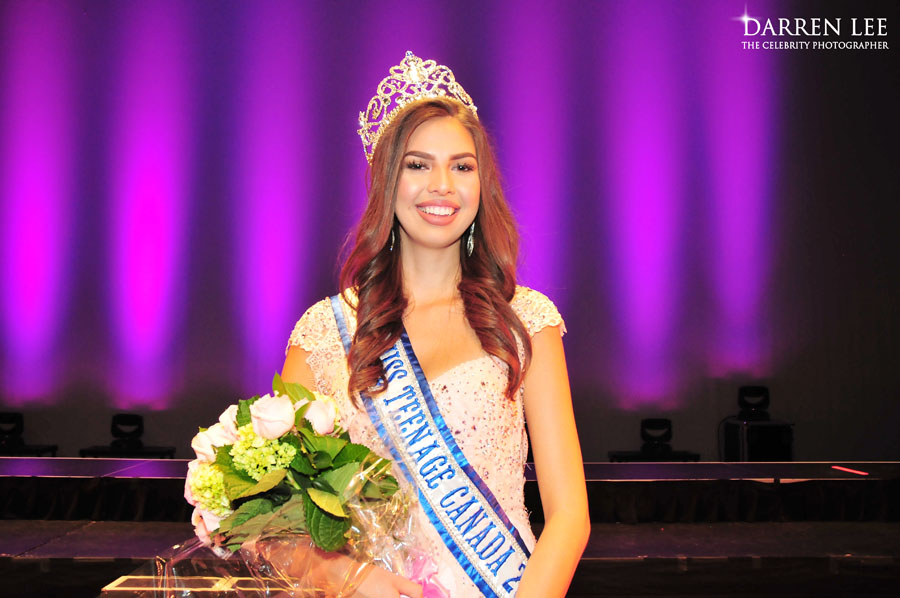 The search has ended. Emma Morrison age 17, was crowned Miss Teenage Canada 2017 on Sunday August 13th.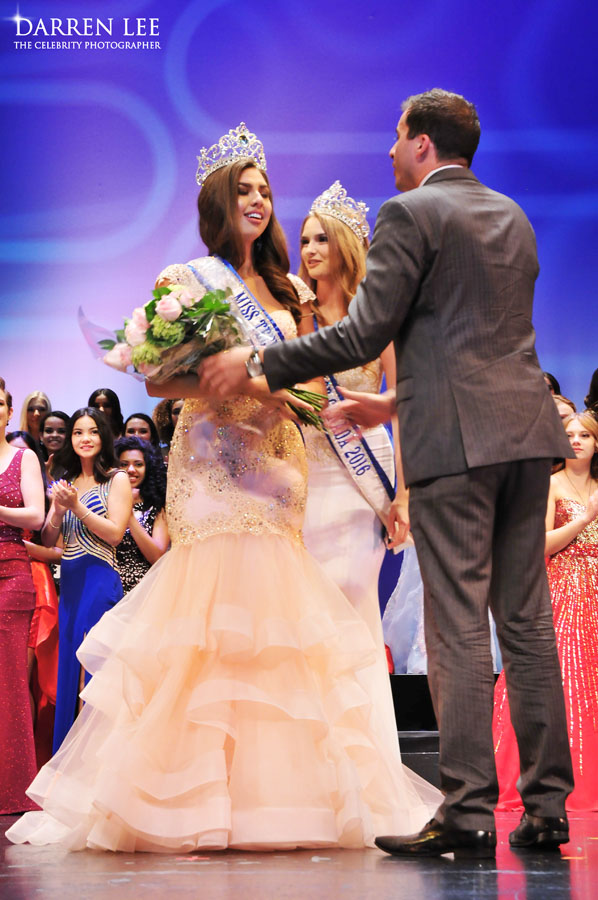 The Chapleau Ontario teen, Miss Teen North Ontario 2017 has become the first ever aboriginal person to be named Miss Teenage Canada. Photos by Darren Lee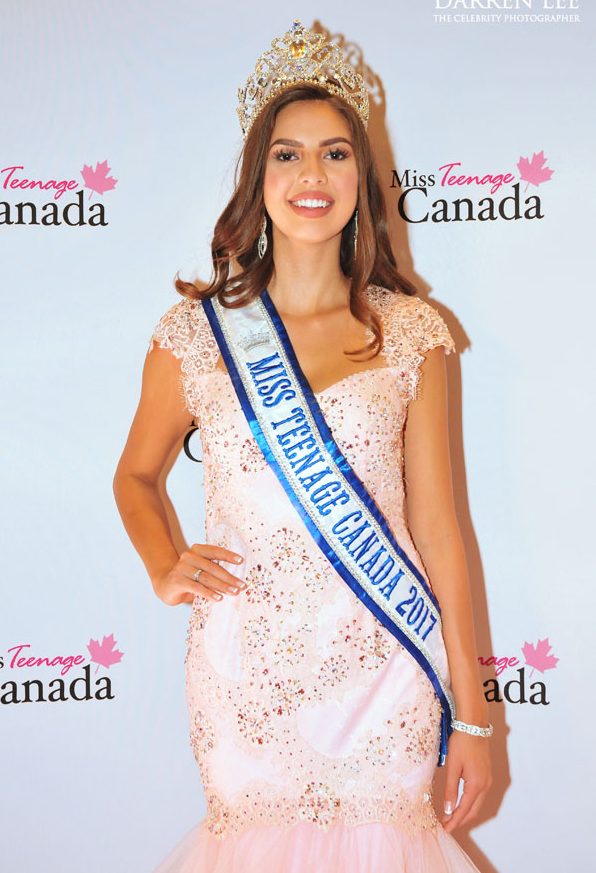 Emma Morrison's Biography highlights her northern Ontario origins as it explains how she's eager to "…explore new opportunities, that is how she found her love for the pageant industry. She entered her first pageant- Miss North Ontario Regional Canada- in 2017, and she was crowned that years' Miss North Ontario.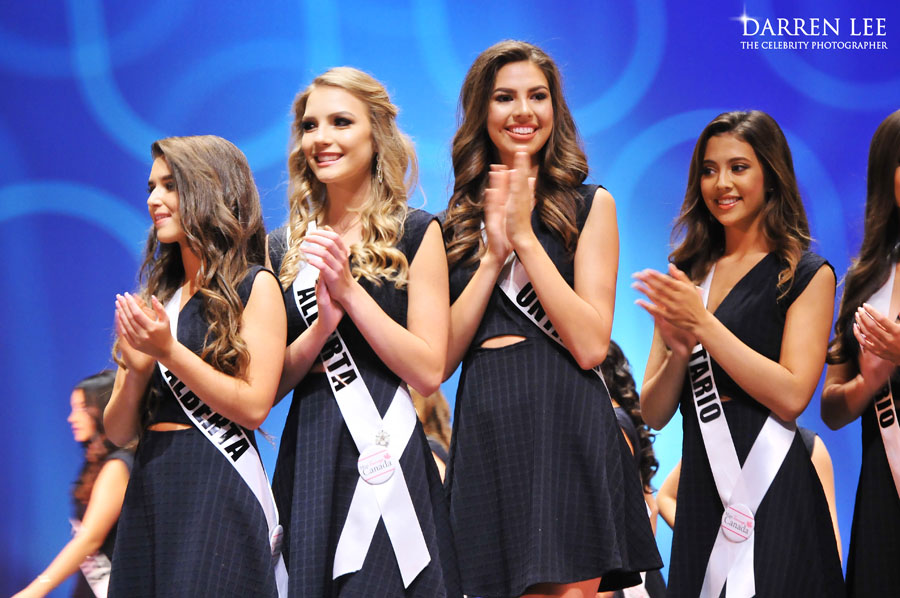 Her crowning on Sunday night in Richmond Hill was exceptional; her mix of laughter and tears made it clear to all present that she really wasn't expecting the honour, and it was beautiful, and wonderful, and overwhelming.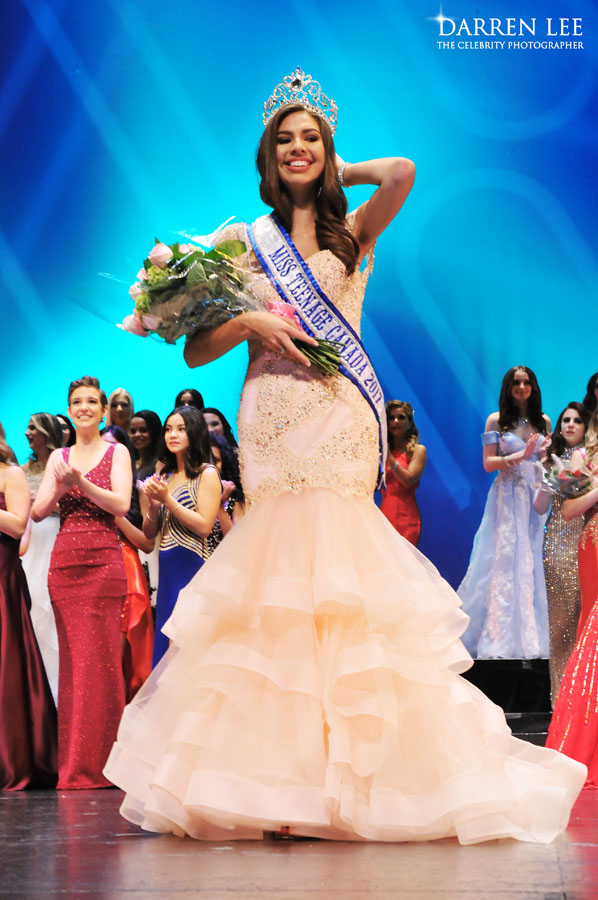 It all happened so fast. Samantha Pierre took her last walk to music with a voice-over track articulating her thoughts on her year. It was very funny of course as Samantha is a real comedian, but sad too as she thanked her supporters and waved to her mom.
And then the final five reappeared,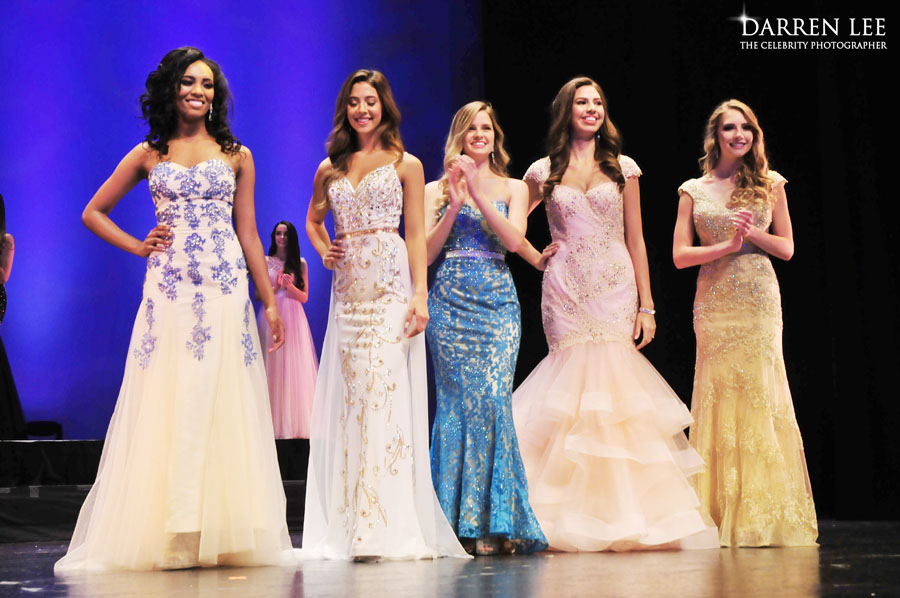 Top Five Finalists waited in their evening gowns to learn their fates from Alice Li and Cynthia Menard, the hosts of the 2017 show who read the commands of the Judges contained in a paper envelope.  One by one the finalists were let go until there was only two delegates remaining, Miana Lauren and Emma Morrison.
Miana Lauren is the 1st Runner-Up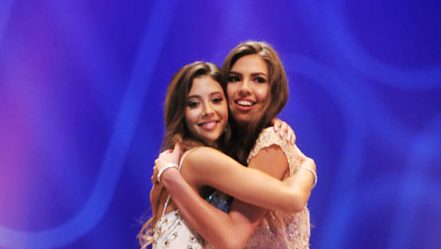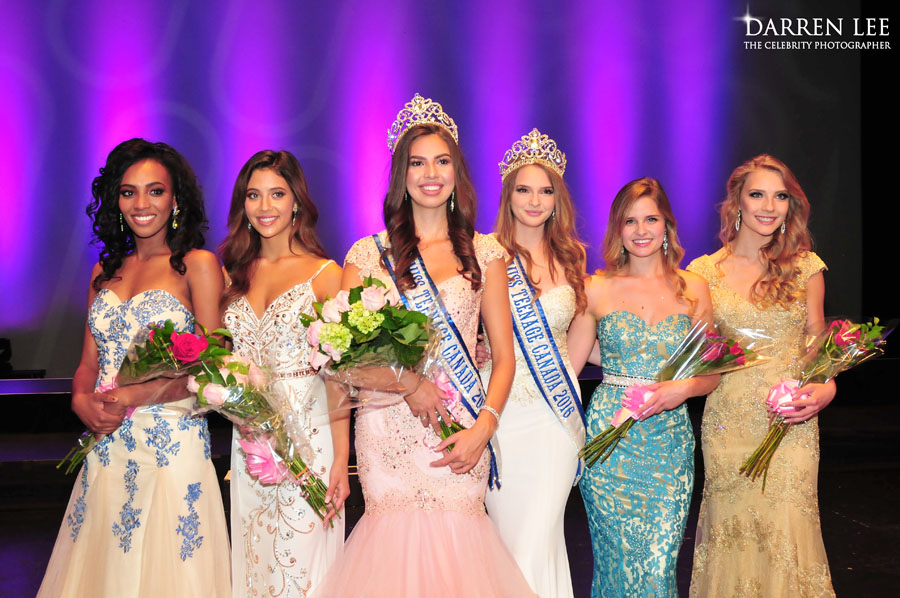 Miana is a a grade twelve student from London, Ontario who had reigned as Miss Teenage Ontario 2017 since February. Emma Morrison comes from Northern Ontario Pageants and was only recently 'discovered' in that circuit. This beautiful person captured the respect and affection of all seven Judges and was crowned Miss Teenage Canada 2017 just a few moments after Miana Lauren was named First Runner-Up.  Sophia DeCarle, in the green dress placed third.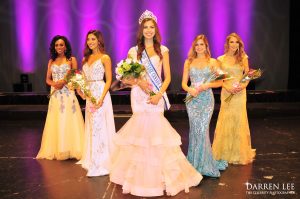 For Emma Morrison,age 17 and everyone else on that stage, it was a long journey getting here. The path to the Nationals required entering and winning regional pageants. It required organizing and fundraising for pageant expenses and charity, and doing photo shoots and interviews. Contestants were judged in a preliminary pageant earlier in the week and a gala show the night before this, the grand finale.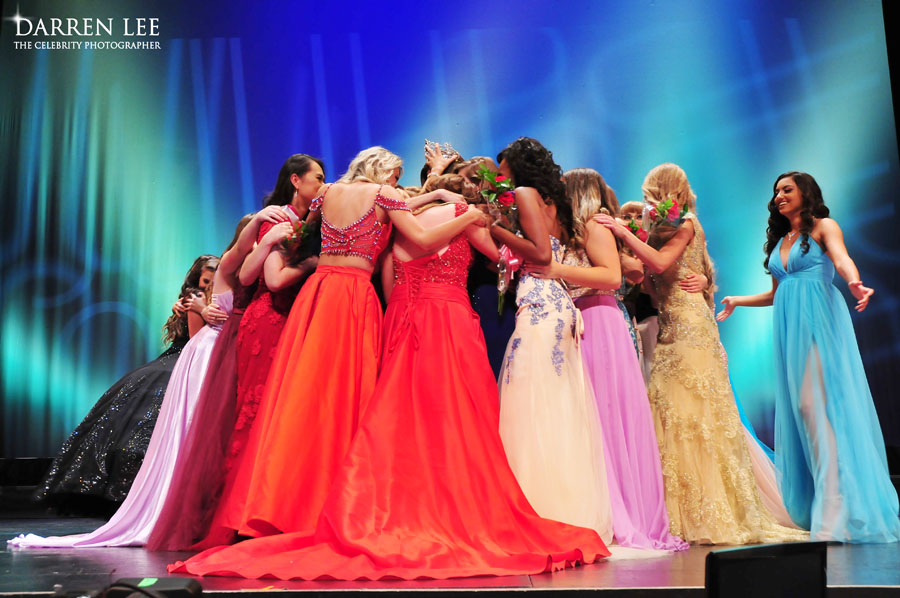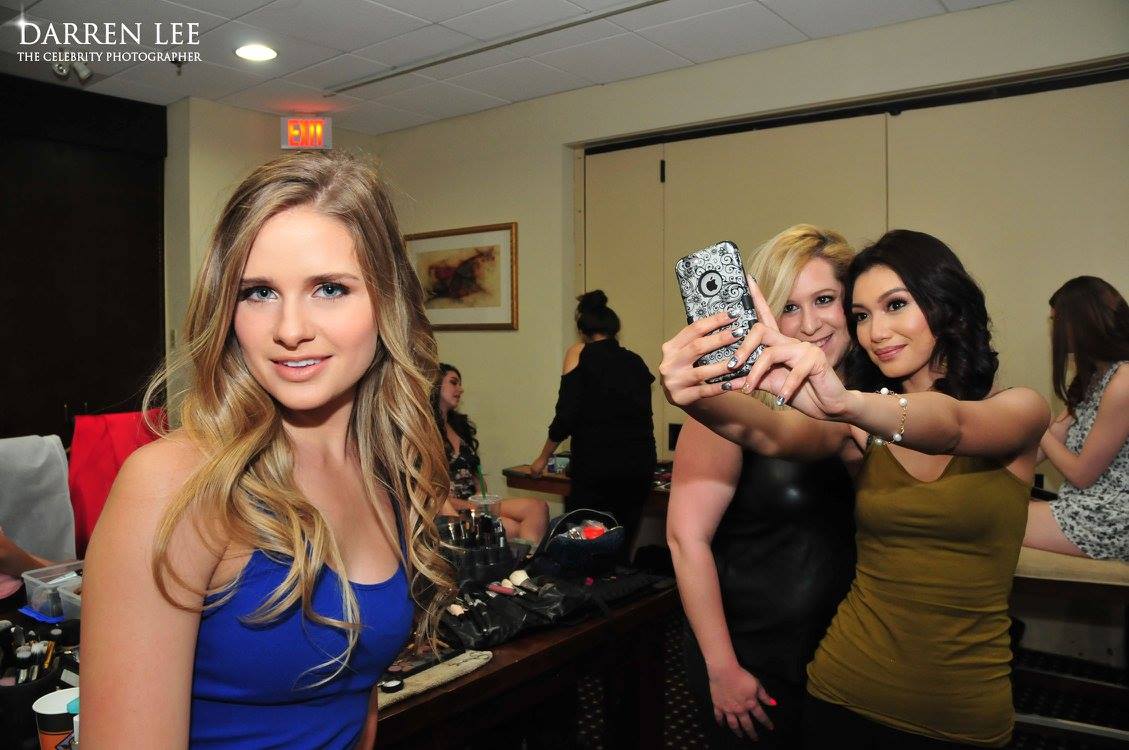 Sophia DeCarle and Shiela Antoniette L. Montes backstage at the 2017 Miss Teenage Canada Preliminaries. Below is a well decorated delegate getting the most professional touch-ups from Jennifer Turner of Modern Make-Up mobile event makeup which does all the hair and make-up for all the delegates each year.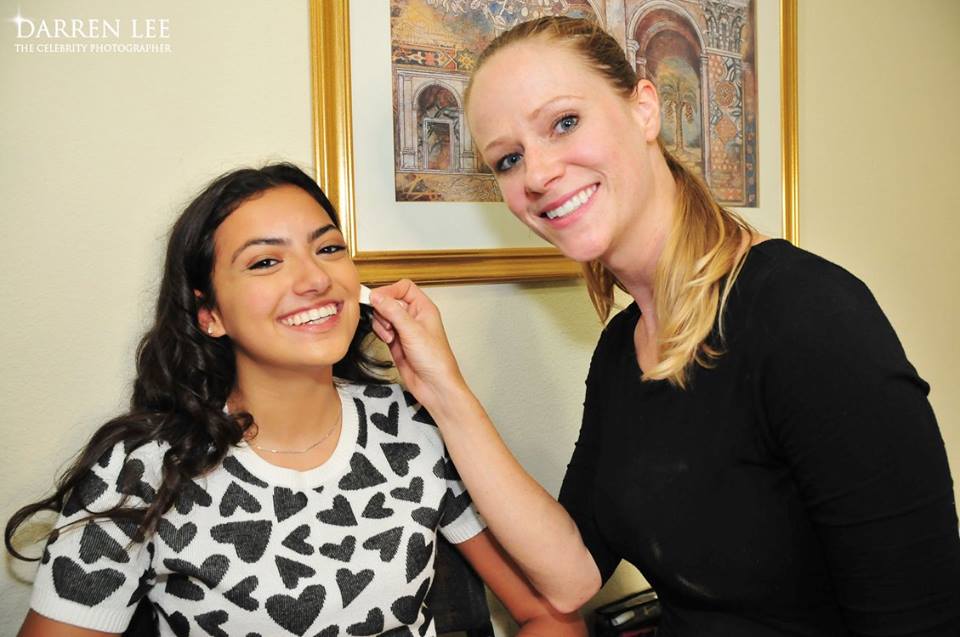 And there was so much practice, practice, practice – Shiela Antoniette L. Montes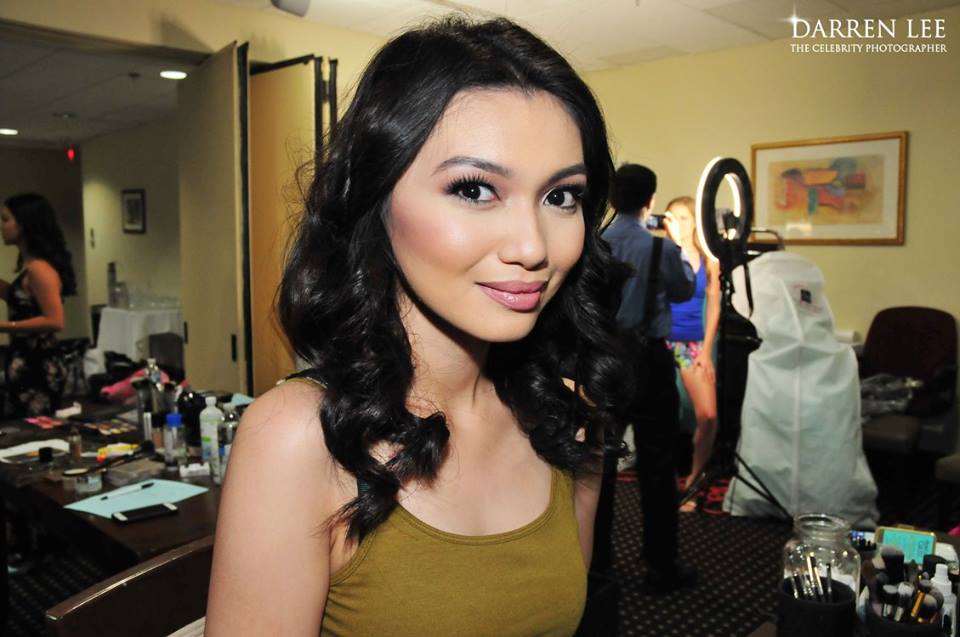 Filled with photo shoots while making new and possibly life long friendships.
Adanna Taylor – in the chair at Modern MakeUp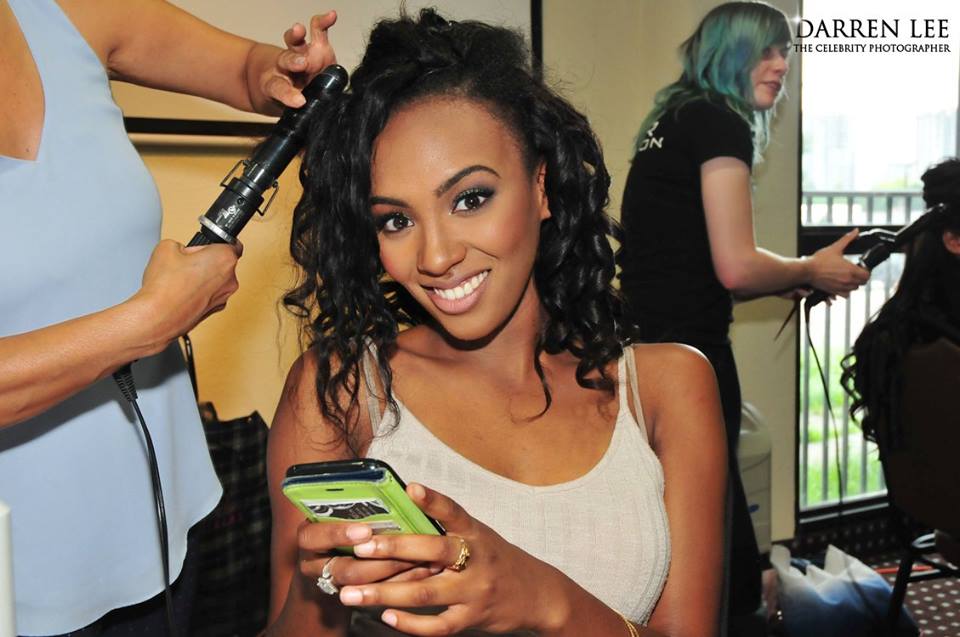 And dance. There was so much preparation for this final show. Every musical number had to be learned to make a cohesive presentation on stage Sunday night.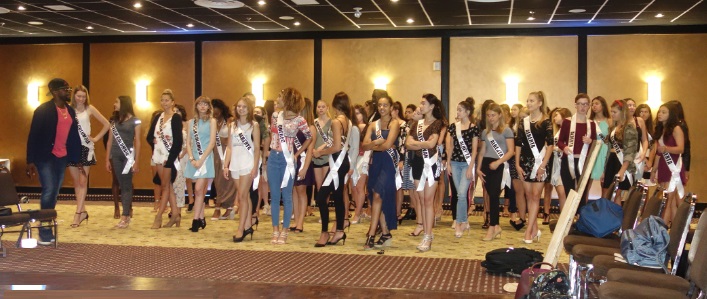 Learning our famous choreographer's dance creations is no easy task.  What the delegates didn't know is that the dance pieces get harder and more complex every year. Like a product engineer designing a complex piece of machinery with many moving parts, so to does our dance choreographer move sixty delegates around the stage to show them off in the most visually striking manner possible.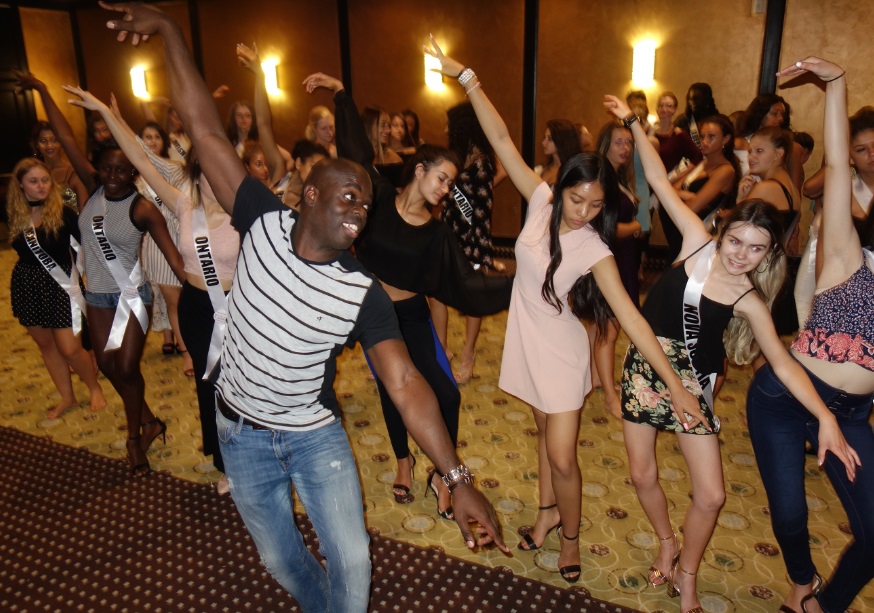 Toronto dance choreographer Shawn Cuffie is not content to simply have the same dance pieces reenacted by-the-numbers each summer; this artist is growing and improving his work all the time. He's especially creative when his vision needs to adapt to new stage layouts, new songs and visual themes.  And new dancers.  This last ingredient is the most important element because without some naturally talented people in the mix, the whole number will fall flat.
The venue had to be prepared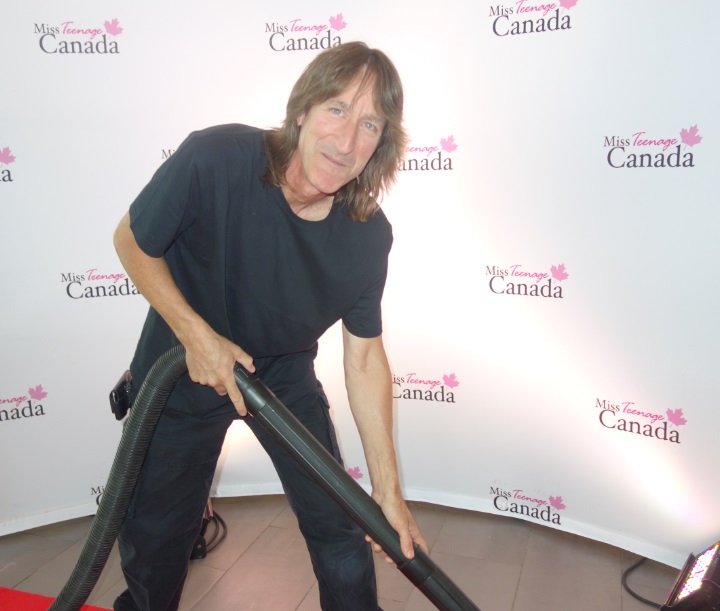 And let's consider all the people who worked hard behind the scenes to make the night possible. Technicians like Merve from Music 21 who does all the lights and backdrops. He even makes sure the red carpet out-front is spotless.
Delegates dined on delicious snacks.
Below are the 'Vegetable Overload' type MTC 2017 Supermodel Survival Packs that were made and donated by grocery sponsors to feed the girls during their long hours of dance practice. The stickers were printed by Sign Source Solution in Vaughan and applied to the plastic vessels as they were filled with fresh produce.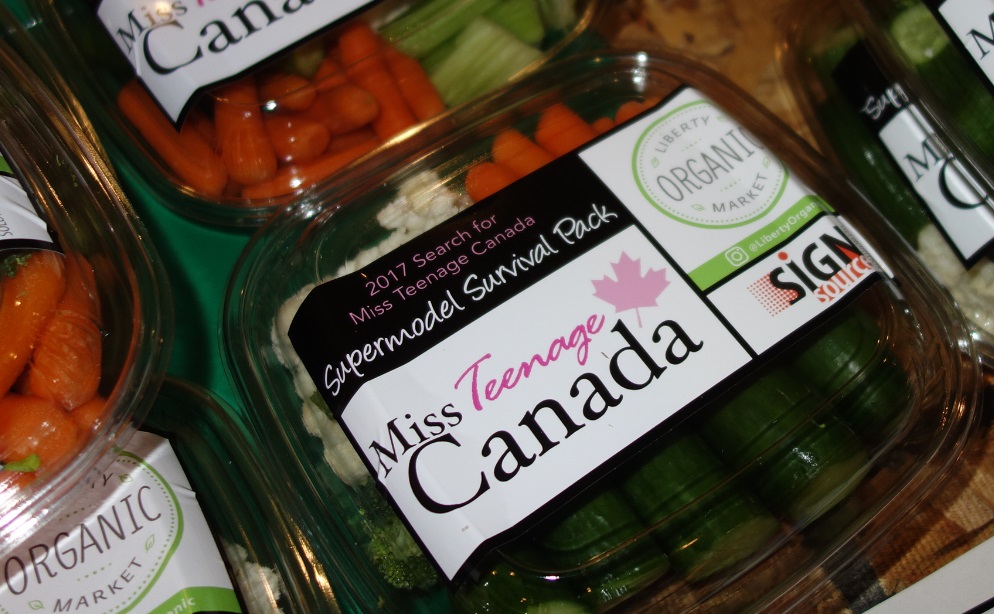 Super Model Survival Packs are sponsored meals donated by Amico's Pizza and Urban Fresh Produce and Liberty Organic Market in downtown Toronto.  Three dozen or more had eggs and cheese and pita bread with grapes. Together the two packs could replace a meal. The delegates devoured a couple hundred of these packs while practicing for the final dances and they took whatever was left to munch on later in their rooms at night.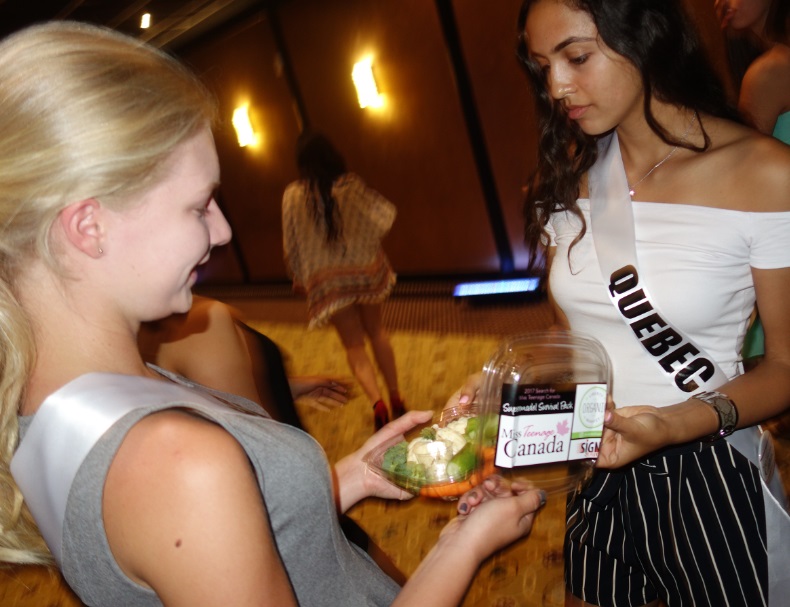 Supermodel Survival Packs offered delegates healthy food options, anywhere and at anytime!
Dance practice happened all week long in the hotel ballroom, with new steps and sometimes whole new numbers being learned everyday. Dress Rehearsal happened at the Richmond Hill Centre for Performing Arts all day Sunday the 14th of August, and right up until the curtain dropped at 8pm.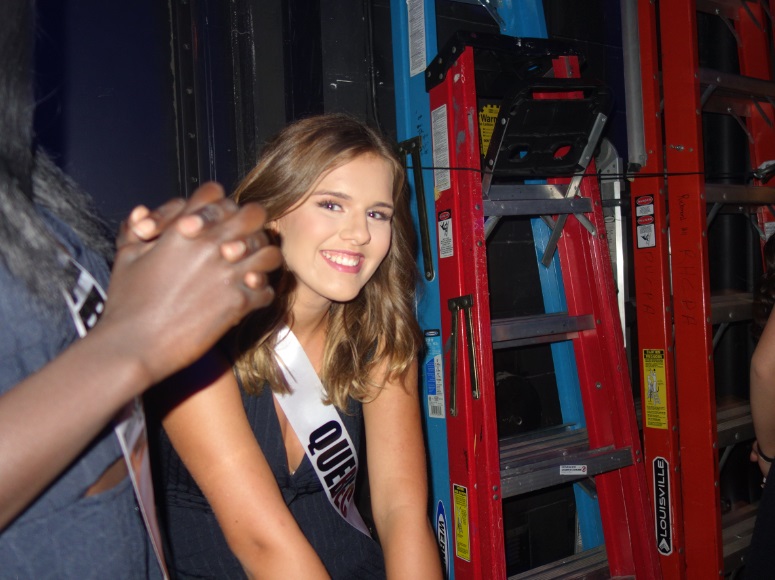 At seven o'clock that evening, the family and friends of the delegates began appearing outside and in the foyer of the building. Below is Marina's older sister who got close enough to share the photo with Joanna Szene, Miss Ontario World 2017 whose sash and crown makes her very welcome at these events.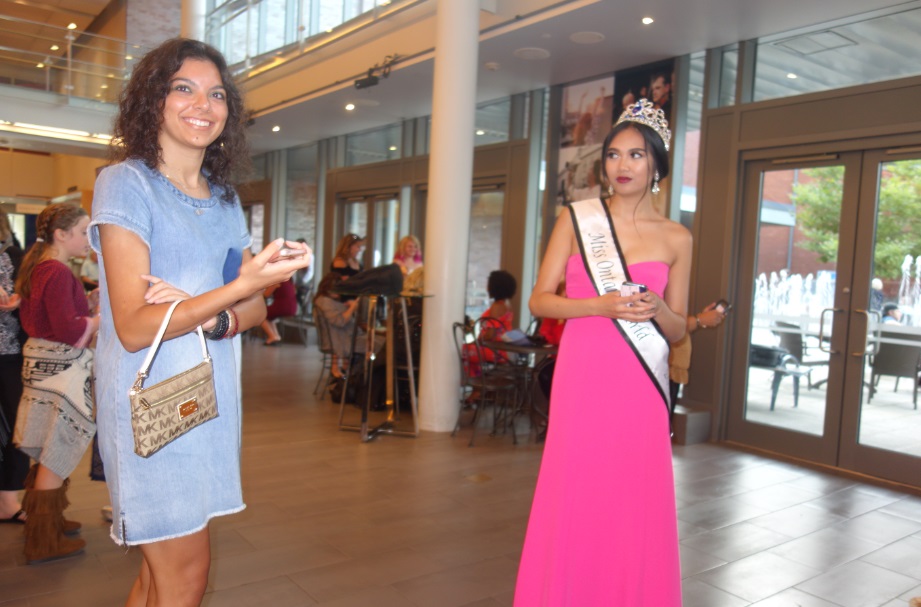 The Judges,  Damien Chen , and Mauren Fenn were caught completely off guard by this author's camera as they met in the foyer.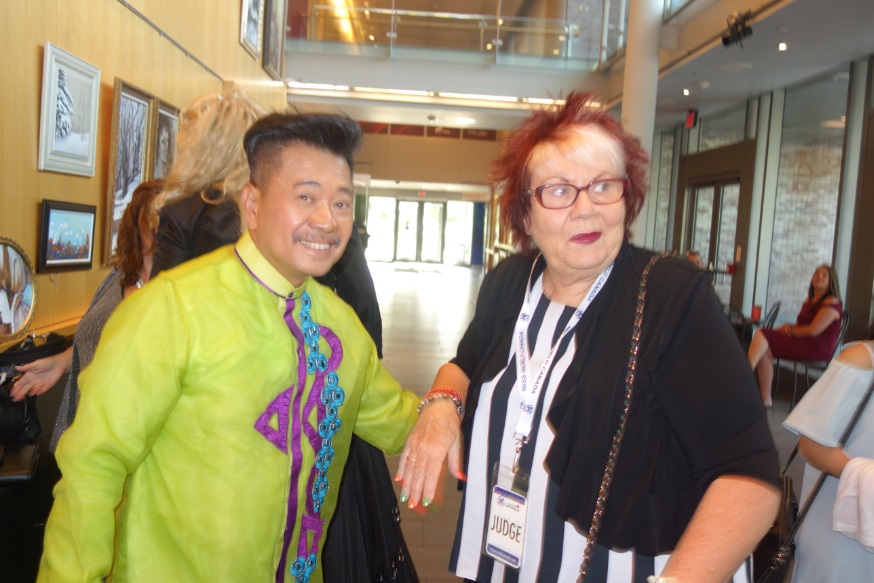 And here's Dahlia DeSouza from UptotheTime Watches who has an incredible sense of style and great presence in any assembly of fashionable women. She was honoured to lend her critical eye as Judge at the proceedings.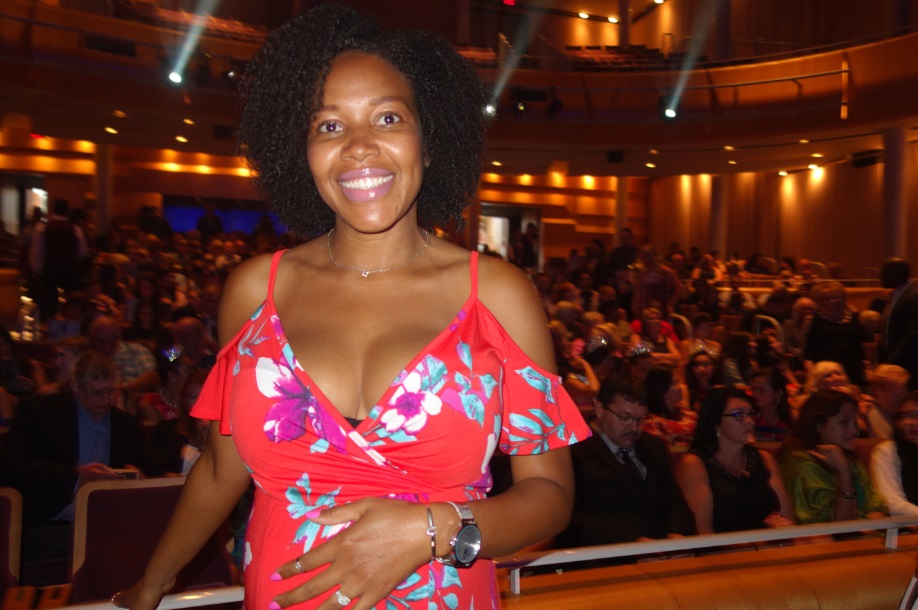 The evening started at 7:30 pm with a meet and greet and general kibitzing. Then as parents started becoming aware of the Judges, they were sequestered. Ryan Weswaldi led the pack away from the prying pr agents, gown suppliers, helicopter parents and any people who may have some stake in the game.
Hosts Alice Li, 2017 Miss Toronto World, and Cynthia Menard 217 Miss World Canada (unseen to the left at the podium) asked the Five Finalists their interview questions. Emma Morrison is seen answering beside Samantha Pierre, 2016 Miss Teenage Canada.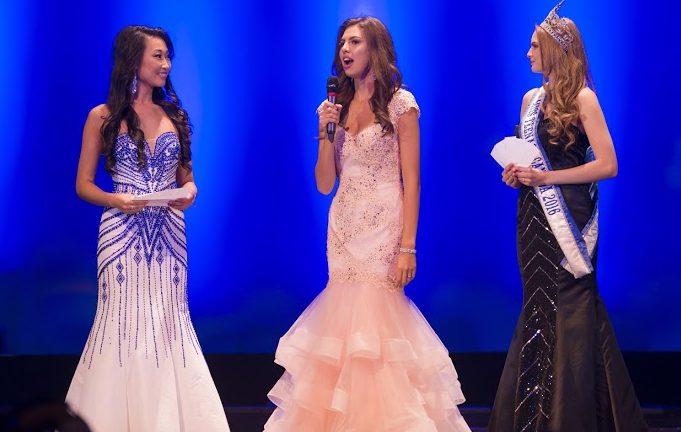 Beauty pageants are similar to Survivor -style reality game shows. The contestants are narrowed down to the Top Twenty Finalists right at the start of the evening (playing all the two minute video biographies took almost a half an hour) and then more were let go and more and more and more until there were only five delegates remaining.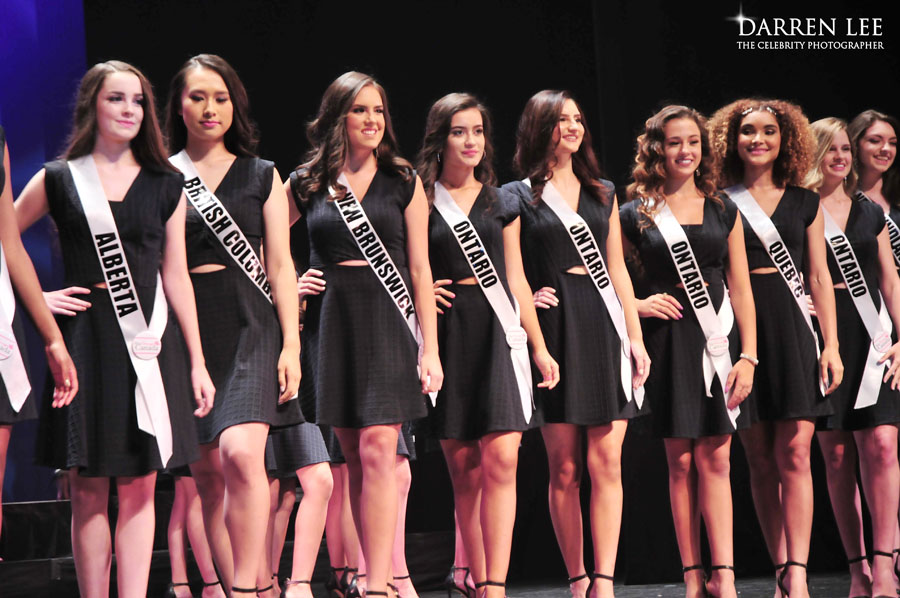 And we all know how it turned out – Congratulations Emma Morris0n!

Below is the DeCarle family after the show – Sophia is the oldest of four sisters.
Jennifer Turner with Adanna Taylor below – Jenn did all the delegates' hair and make up and so of course bonded with the ladies. She gets emotional too and does her own makeup after each goodbye and before the next delegate appears and there are more final photos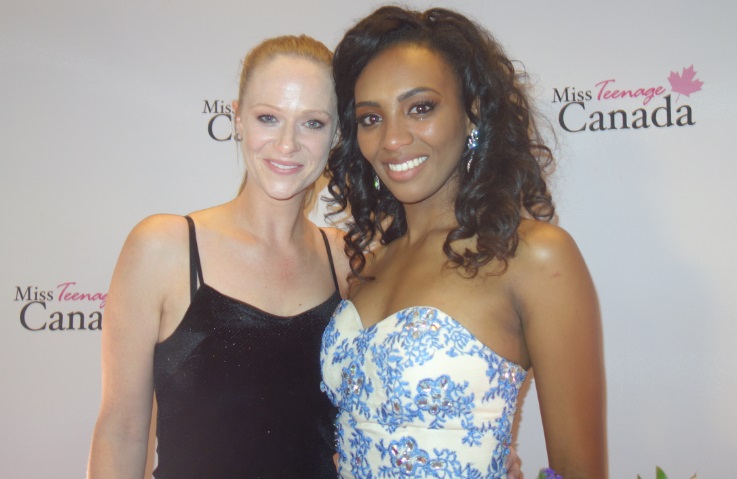 The Miss Teenage Canada pageant is an emotional roller coaster to be sure; it has its ups and downs and moves slow at times and then really fast in other instances. The heights are dizzying and the memories intense, but there are painful moments too. All things considered though, for young women seeking experience in dance, fashion and the performing arts, its a pretty amazing ride.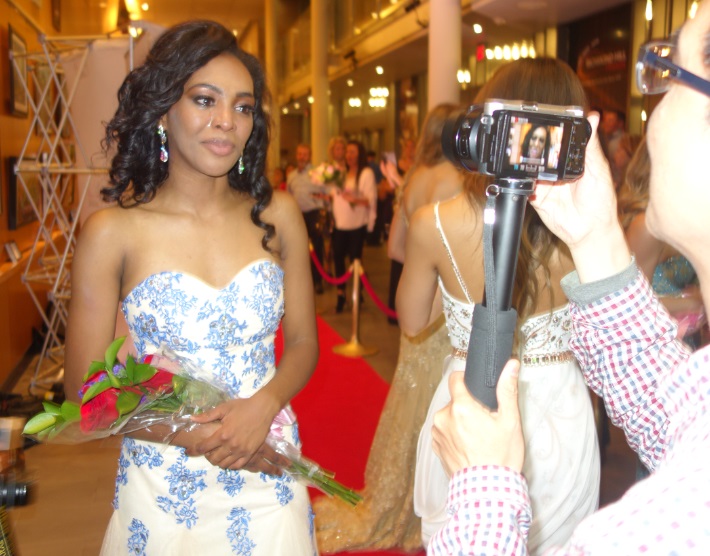 Save
Save
Save
Save
Save
Save