Slowly getting caught up on everything! I've been working lots and trying to keep up with school and events, it's just been a little crazy so please bare with me!
Vancouver Fashion Week
This was my biggest event yet in more ways than one. It was my first out of province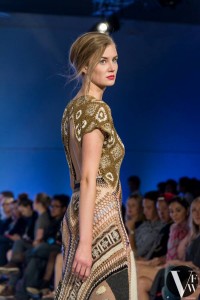 appearance and my first big modelling job also outside of the city.
I arrived into Vancouver on Wednesday and spent the night catching up with my aunt and uncle. On Thursday morning, I arrived at the Chinese Theatre and went straight to fitting for a designer from China, Lili Ming. She showed over 80 hand made pieces with over 20 models. It was incredible! After I was finished I was asked by Papillion, another designer in the show that night to do media with her. It was amazing and really encouraging that she liked me! Walking my first big runway was a little but intimidating because a lot of the girls had done this show before and if not they had done the shows earlier in the week so it was a little bit of a sharp learning curve. But I hope I did well!
Friday was the same sort of drill. A lot of waiting around, fittings, make up and showtime. Friday night, I had the opportunity to model for 2 designers. Both were fashions I felt I could actually wear which was a nice change to the normal idea of high fashion! I modeled for Aloysius Liew  and his WHAT IF Collection, as well as the Uwi Twins Fashions. I felt a lot better the second night. I felt a lot more comfortable out on the runway.
Saturday was the same as the other days. Saturday night I only modeled for one designer, Lilla Csefalvay from Hungary. Her designs I felt were a lot like the ones I would have expected to see. Not something you would see someone walking down the street in but definitely acceptable on the runway. For the rest of the night I had the opportunity to go into the VIP lounge as Miss Teenage Canada. I had a lot different interviews and met with different photographers as well.
Overall the experience was an incredible learning opportunity and I felt I learned so much from the other models and their experiences as well as just from being thrown into the atmosphere. The experience gave me a little taste of the big modeling industry! I hope to be back again in the spring! We'll see what the future holds!
** Runway photo taken by Aziz Dhamani Photography, MTCW photo taken by Vertumnus