The 5th annual Miss Teenage Canada Competition takes place on July 21st 2012 at the Queen Elizabeth Theatre in Toronto, Ontario Canada at 8:00pm EST. Watch an exciting procession of events lead to a grande finale in which the reigning Miss Teenage Canada 2011 Lauren Howe of Toronto will crown her successor.
Canada's top 64 Regional Finalists from across the country come together for a night of unprecedented glamour and excitement. The delegates will compete for over $30,000 in cash and prizes and one will walk away with The Crown!
Hosted by Degrassi's Luke Bilyk, and with special performances by Canadian Multi-Platinum Artist, Karl Wolf, the 2012 MTC-W pageant promises to be a night to remember.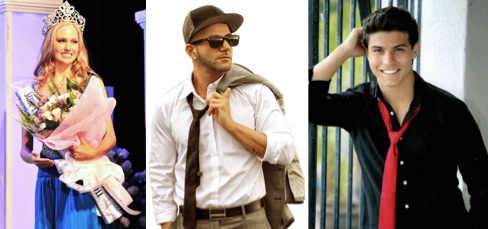 From left to right Miss Teenage Canada 2011, Lauren Howe;
Canadian Multi-Platinum Artist, Karl Wolf;
and Degrassi's Luke Bilyk
Tickets are $55.00 and can be purchased at
http://tickets.ticketwindow.ca/eventcategory.asp?c=93
$1.00 for every Ticket sold will go to www.cardiackids.ca.
Delegates will also be presenting a cheque for a surprise amount to benefit Free The Children. This year the money will go to their new development in Nicaragua.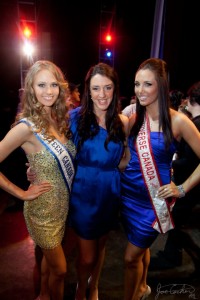 For the first time ever, a free live webcast of the event will be shown online at missteenagecanada.com to allow fans and family from across the country to share the excitement and follow along at home!
Lauren Howe, Samantha King and Chelsae Durocher
Now in its fifth year, this years contest is the biggest yet. The girls face rigorous competition as they step up to the stage in hopes of becoming Canada's next beauty and goodwill ambassador. Click Here to meet the finalists.
The contest is judged based on beauty, poise and leadership qualities. The top 20 girls will be pre-selected and the final vote goes to a pannel of judges.
Who are the Judges of Miss Teen Canada?
This year, the MTC-W judges include,
CityTV Fitness Personality, Stephanie Joanne;
Woody Michleb Award-Winning Hair Artist, Amy Michleb
Canadian Actress, Kristin Fairlie,
Sherrida Personal Management Model and Scout, Corey Ceccarelli
Career Expert, Maureen Fenn
Owner of Bells and Bows Bridal Center, Angeline McDonald
Susan J. Talent Model & Talent Management Founder, Susan J. Burych
Canadian Olympian, Okiki Akinremi
Canadian Idol Judge, Zack Werner
Modelling Veteran, Marg Brown
Toronto Dentist, Dr. Natalie Archer
Canadian Actress, Natalie Grace
and Soya Boutique owner, Melani Chong.
Last years Miss Teenage Canada 2011 Winner was Toronto native, Lauren Howe.
Lauren is currently in her first year of University pursuing a Biomedical Engineering degree. She graduated from high school with 95% average and is an avid philanthropist. She has traveled to Peru, where she helped re-build a fallen community building as a result of the aftermath of a devastating Earthquake. She has also been to Ghana to help build a high school and teach English to children. This summer, she will be traveling to India for another project with Free The Children.
"Our motto is to 'be your own kind of beautiful and that is reflected in every sense of the word," Says Michelle Weswaldi, Director of Miss Teenage Canada. "It takes a lot more than a pretty smile to win the contest. It takes, brains, confidence and leadership."
Weswaldi prides the pageant on its resonating core values like charitable involvement, personal growth and leadership, all mixed with a healthy dose of competition. Recognizing the sometimes-warranted negative stigma attached to pageants, Miss Teenage Canada is committed to setting the highest standards of competition compared to other pageant systems. As a result, Miss Teenage Canada is Canada's most recognized competition of its kind.
"These are not your typical beauty queens, " says Weswaldi. Ninety-five per cent of the contestants have never entered a pageant before. Miss Teenage Canada 2008 winner, Katie Starke, was a hockey-playing tomboy who had never walked in high heels before entering the competition. The Miss Teen Canada Blog Network is another unusual component;  10% of each delegate's score is derivative of their blogging skills.
With a strong social responsibility component to the contest, each Miss Teenage Canada contestant is required to fundraiser individually for the international children's charity, Free The Children through local sponsors in their communities. Each winner of Miss Teenage Canada has the opportunity to travel to various parts of the world to visit the projects they have supported and to see first-hand the impacts of their fundraising with Free The Children. To date, the Miss Teen Canada- World organization has raised over $190,000 for Free The Children.
Providing an opportunity for self-promotion and expression, each contestant has her own blog as a requirement and is judged on her social media activity. Thanks to this strong social media element- including a daily MTC-W blog and video blogs- friends, family and hometown fans can follow the girls' adventures as they dazzle Toronto from the inside out.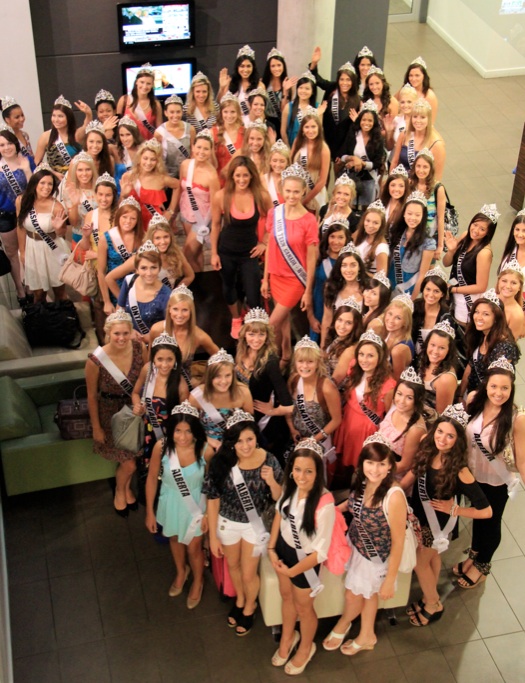 2012 Finalist with MTC-W 2012 Judge Stephanie Joanne
ABOUT Miss Teenage Canada
Now in its fifth year, Miss Teenage Canada is the Official Preliminary to the Miss Teen World Pageant. The 2012 Search for Miss Teenage Canada is a quest to discover Canada's brightest and best teen women from across the country. The competition provides a once-in-a-lifetime opportunity to learn, grow, challenge oneself, and participate in community-building initiatives in a fight for important causes. It provides a chance to make a meaningful difference in the lives of people both at home and around the world. Miss Teenage Canada is the only truly National competition with finalists representing all 10 provinces across Canada. Delegates are handpicked from thousands of applicants from all across the country.
THANK YOU TO THE 2012 SPONSORS
Woody Michleb Hair Salon, Toronto Eaton Center, Extreme Fitness, Fuel Foods, Cheeky Monkey Cosmetics, Sallazo Slippers, Post-it Notes, S-Trip, Stephanie Joanne, Zack Werner Idol School, Aveda, Christina Swimwear, Bells and Bows Bridal,Richard Sibbald, Me To We Style, Jergans, Aqua Funky, Goody, B.Spoke, Toronto Academy of Acting, Glow Academy, Jeanne Lottie, Biore, Gourmet Burger Co.