I was hoping to write a blog at least once a week as I had done prior to the competition, but unfortunately with scheduling, that hasn't really happened! So I hope to post as much as possible but at the very least include a monthly wrap up.
The Monday after I was crowned, I headed out to my first official photo shoot as Miss Teenage Canada 2013. It was kind of surreal experience. I had my own personal make-up artist, who also did my hair and all these gowns brought in for me to wear. I felt like I really was a princess!
Once I was ready to go, it was a new experience for me because it was my first time shooting in a studio. I found it a little more difficult than shooting on location because you don't have much to work with other than yourself and what is on your person.
It was a lot of fun to try on and take photos in these 4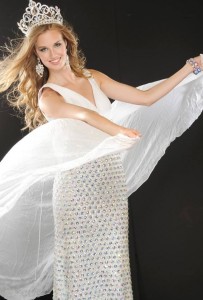 gorgeous gowns! I would have never picked for myself. The first dress was very cute. It was short and yellow with a poofy skirt. The second dress was a red, long, fit and flare. Definitely difficult to walk in! The third dress was a black high low. We got to go outside for this and I felt a lot more in my element there!
While I was shooting outside, I had a phone call from CBC radio and got to do my first official interview! It was very, very strange. I feel as though the interview went well though!
My last dress was spectacular! It was all rhinestones and weighed almost 22lbs! It was stunning though. I would have never thought to try on a dress like that!
Over all it was a very good experience and a good way to start my reign!
Interviews Galore!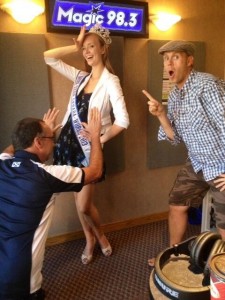 When I returned home I had quite a few different media interviews. I was on global tv morning news, I had a phone interview with C95 and I got to go into the studio and had an interview with Magic 98.3 which was so much fun! It was still so weird to put on that massive crown and sparkly sash!
Meadow Lake Chuckwagons
The weekend after I got home, my parents, Grandma and I all drove out to Meadow Lake, Saskatchewan where I had originally planned to appear as Miss Teen Saskatchewan but I was excited to have this be my first appearance as Miss Teen Canada. My cousin is an outrider for the Canadian Professional Chuckwagons Association so I was very excited to him ride. I was introduced amongst the drivers and outriders. I guess none of the other guys believed that we were cousins because when he was introduced, they introduced him as my cousin and all guys looked at him and said "oh, you weren't kidding about that?!"
Wrap Up
Overall the little I did do in the last bit of July was all very strange because the title hadn't actually set in yet but a very good way for me to get my feet wet!
Jillian, oxox