Still hoping to get on top of all my blogging! I hope to soon!
Saskatoon Ex Parade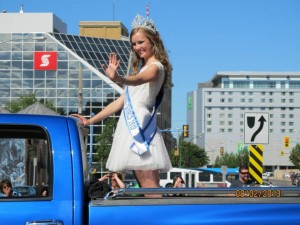 I was so excited for my first parade as a title holder to  be in my hometown. I was also very excited because one of my good friends agreed to drive me in the parade in my dream car which his dad owned, a 66′ Mustang convertible. Everything was perfect until we got about maybe 4 blocks into the parade when smoke started pouring out from under the hood. We had to pull over because the car was over heating! I was lucky because the people with the last float were nice enough to let me stand in the back of the truck pulling their float!
I still haven't gotten used to being called princess. But I love seeing the look on little girls faces, they look as though they had just seen their ideal for the first time ever. There are no words to describe how amazing it feels knowing that was probably one of the high lights of their day. It's so humbling.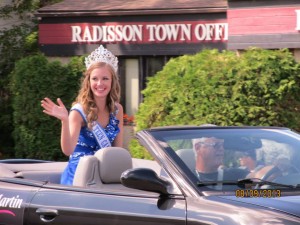 Radisson Centennial  Day Parade
The weekend after I headed to radisson sk for the centennial day parade! No car mishap this time round though thankfully! It was a lot of fun and everyone was so kind and welcoming! Everyone seemed very impressed that Miss Teenage Canada was there especially since Radisson is a fairly small town! To my surprise I ran into one of my friends there, apparently his grandparents live in radisson so It was very cool to meet and take pictures with a lot of his family members. He said he became the favourite nephew that day!
The Canadian Professional Chuckwagons Association Finals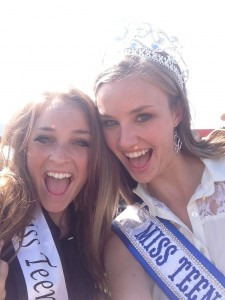 I had agreed to go to this event with my provincial title and was very excited to be joined by my friend Suzanah Fialkow, Miss Teen Alberta World 2013. The finals were taking place in Lloydminster which is right on the border of Alberta and Saskatchewan so I thought it would be fun to have Miss Teen Saskatchewan and Miss Teen Alberta at an event on the border! I was once again very excited to my cousin ride. The races again. I love going to the chuckwagons because everyone is so welcoming and automatically treats you like family as soon as you're introduced. It was much fun to have Suzy there with me because I hadn't seen any of the girls since we had all left Toronto and it was her first time ever at the Chuckwagon races so it was cool to kind of show her the ropes of it.
We got to help hand out awards and make some draws for some of the prizes as well as enjoy the races! Overall it was a very fun day!
Also congratulations to Vern Nolan for winning the finals and also to his outriders Brett Nolin and Dale Mitsuing.