MTC-W kicked off the beginning of an action packed week with a fabulous welcome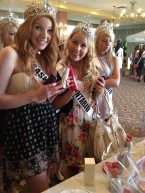 party hosted by some of the 2013 MTC-W sponsors including Schwarzkopf Professional, ps by prettysweet and Golden Glamour Goddesses.  The 75 gorgeous contestants filled the banquet room at the Holiday Inn, wearing their pretty dresses, sashes and fancy shoes.  Each one of them showing off their individual style and smiles.  The teen girls circled the room in groups visiting each sponsor and collecting generous swag bags filled with amazing gifts.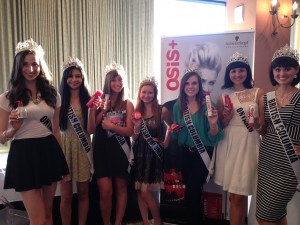 Schwarzkopf Professional had a table set-up with product while a representative showed all of the ladies how to use the best hair-care products on the market. The ladies received product of their own and will also have their hair done for the final pageant with Schwarzkopf Professional styling products.  The pageant winner will receive a gift pack including hair-care products for a year!  www.schwarzkopf-professional.ca
Over at the next table, Golden Glamour Goddesses were demonstrating their mobile beauty services which specialize in spray tanning, airbrush makeup, hairstyling and eyelash extensions.  Their amazing services will be assisting the contestants to prepare for the pageant.  The first, second and third place finalists will also receive an unbelievable prize package. www.GGGoddesses.com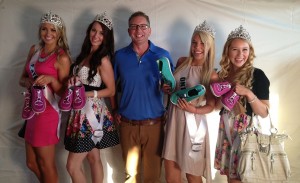 Hi-Tec Canada, set-up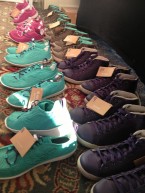 an amazing fitting booth where each contestant was personally fit for a pair of shoes of their choice.  With four different colours and two different styles to choose from, each contestant left the fitting booth excited and happy with their new shoes. They will be able to see the Toronto sites in some of the most high-quality yet stylish footwear there is.  www.hi-tec.com/ca
ps by prettysweet had a lovely booth full of sweets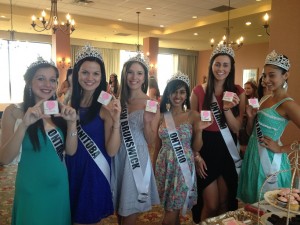 set-up for the contestants.  Each contestant could take a cookie and write their name on it with edible markers.  Brownies, shortbread and cupcakes were consumed by all!
Free The Children representatives chatted with each contestant about where their fundraising money would be going and the wide range of opportunities for youth to make a difference. www.freethechildren.com
MTC-W 2013 is going to be a great one.  You can support the girls via Facebook fan pages or Twitter.  Also, you can show your support by attending the pageant on July 20th 2013 in Toronto by purchasing tickets at http://tickets.ticketwindow.ca/eventperformances.asp?evt=1537
The girls would love to see you there.