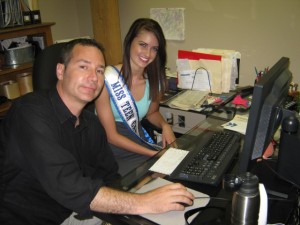 We all know the importance of social media and creating a positive digital footprint. For the last 3 years, Rob Campbell has worked with the teens of the show introducing them to the world of blogging, and he is back again this year to help the new batch of beauties learn about their online presence. The great thing about this show is that it exposes the girls to new things. It also helps them adjust and grasp new strategies.
Social Media and Miss Teenage Canada:
Social media is the new "it" thing. Everyone is getting on the bandwagon because it is the most efficient way to brand and introduce oneself to the world. Because of this, the girls from Miss Teenage Canada are being trained on the importance of their online image and how to use the Internet positively. Sharing experiences with fans is a great way to create an everlasting bond. Because of this, every girl form the competition gets her own wordpress blog–check out the girls and all their blogs! They will manage it and create conversations with others through it. A lot of ladies have already started creating some buzz and starting their online career.
The Blog Army:
Rob Campbell and Maram Aoudi from Lenzr.com will be helping the young ladies with their storytelling and presentation. Check out the Miss Teenage Canada's blog network to see what they have to offer. The blog army consists of 76 girls, writing about their hometowns and their own experiences. They are given 3 blog challenges that make up 10% of their final score. Each assignment is unique and challenges the girls differently. The first assignment was an intro and a way for the girls to get to know the basics of blogging. The second and third showcase the girls' ability to present information and research. They are asked to learn more about Free the Children and the sponsors of the event. The girls are taking on the internet world in full force. They have been sharing their thoughts with the world under the guidance of the social media gurus at Lenzr.com.
The search is no longer about looks, it is about brains and technique.
As social media continues to grow so does the need for proper internet etiquette–how a young lady digitally presents herself to the world is important.