Jambo!
It all began about one year ago, each of the delegates in the Miss Teen Canada –World 2011 pageant where given 6 weeks to fundraise for the focus organization, Free the Children. After the 6 weeks concluded and the pageant itself came to an end, I had been awarded the 'Top Fundraiser' title. Over the course of 6 weeks, I had raised $16,626.75. With this award the delegate is given the opportunity to travel with Free the Children and Me to We to their location of choice. This was an extremely exciting moment and I knew that sometime in the future I would get to take part in one of the Me to We volunteer trips. Growing up I had never thought too much about a service or mission trip, but I always knew that I wanted to help make a difference in someone's life or, if I'm lucky, make a difference in the world…and so began the adventure of a lifetime!
From May 13th-June 2nd 2012, I had the extraordinary privilege to travel across the world to Kenya, Africa. In my group there were 23 participants, 3 facilitators and 2 very special Maasai Warriors; Stephen and Peter. As we boarded the plane in Montreal and the plane took off I couldn't believe it! First of all it was my very first plane ride and second we were on route to KENYA!!
Once we arrived in Nairobi we made our way to the Maasai Mara Region where we would be staying for the next 3 weeks. The camp staff, facilitators and our Maasai Warriors made our stay the most incredible time! Together we all grew as a family and will forever have the memories of Kenya! Never in my life have I ever seen so many happy, thankful people. The people of the Maasai Mara truly have something special about them, and that is their infinite smiling. Whether we were driving by, playing at the school, or visiting with the Mamas their smiles would send out happiness and joy to us all. It was truly a powerful thing to see how a smile could impact us.
"Often we underestimate the power of a touch, a smile, a kind word, a listening ear, an honest compliment or the smallest act of caring, all of which have the potential to turn a life around." – Lou Buscaglia
ROBIN WISZOWATY:
"Growing up in suburban Illinois, Robin Wiszowaty leads a typical middle-class American life. Hers is a world of gleaming shopping malls, congested freeways and neighbourhood gossip.  But from an early age, she has longed to break free of this existence. A yearning burns inside her, wishing for something deeper. What it is, she doesn't quite know. Yet she knows in her heart there simply has to be more. Robin seizes an opportunity to travel to rural Kenya and join an impoverished Maasai community. Suddenly her days are spent hauling water, evading giraffes and living in a tiny hut made of cow dung with her adoptive family. She is forced to face issues she'd never considered: extreme poverty, drought, female circumcision, corruption- and discovering love in the most unexpected places. In the open wilds of the dusty savannah, this Maasai life is one she could never have imagined." (Robin Wiszowaty, My Maasai Life). Robin shared with us her story and now having lived in the Mara for 10 years she fully understands and has lived the Maasai life. Seeing the courage, compassion and charisma that she brings with her and that flows from her, as she speaks, she inspires me. She went on to say that "Opportunity isn't a chance; it's a choice". This quote stuck with me as many of us are very fortunate with our life styles here in North America and we have the opportunity to reach out, to step forward and to make a difference. Sometimes having the opportunity isn't quite enough though. We have to make the choice, ignite the spark inside of us, take the opportunity and roll with it. Robin went on to show us the beautiful bracelet she designed. This bracelet has the Swahili phrase 'Tuko Pamoja' written on it. This means 'we are together', this powerful phrase creates a support system. Everyone in my group supported Free the Children by buying one of these bracelets. Now no matter where we go or what we are doing, whenever we look at our bracelets we know 'we are together', we support one another and we are working together with Robin to be the change.
SAFARI: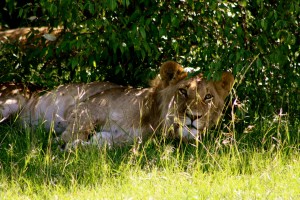 The early morning wake up call brought a full day devoted to the safari! From the beautiful, majestic giraffes to the countless gazelles and the eye catching zebras. From the speedy cheetah to the family of lions, the huge hippos to the wandering wildebeests, the safari was truly a magical day! Seeing all of these animals and more was such a delight! Exploring the Ol Choro Oiroua Conservatory and searching for animals made the day full of adventure, not knowing what animal, if any, we would see next! Our group was very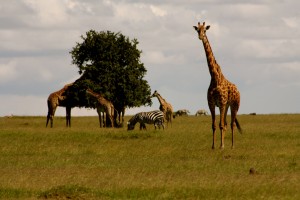 fortunate as we got to see many different animals and in some cases we were very close to the animals and were able to see the details of them. This experience was thrilling and the entire group enjoyed the day! My favourite animal of the day was the giraffe. Watching them stroll over and eat from the acacia trees was incredible. Their long necks and beautiful bodies made the giraffes seem so enchanted and mystical.
BUILD SITE: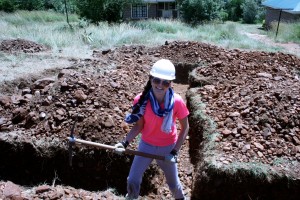 We visited the build site almost everyday; we were building a teacher accommodation. The stage of the building we were in charge of working on was the foundation. This stage meant that we would be pick-axing and shoveling to create trenches, in order for the rebar and concrete to be poured into the trenches. With each pick-axe and each shovel the group of us all worked together and put our all into the task. It was remarkable looking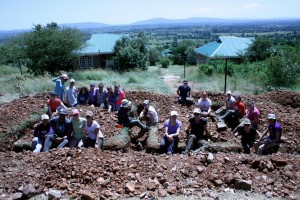 around seeing everyone hard at work and knowing the difference we are making. While we worked we were able to see a finished version of a teachers accommodation behind our build site. Seeing this helped to motivate us in times of exhaustion and heat. The encouraging words of fellow volunteers, inspired us to keep on working and to complete our stage of the building process.
FREE THE CHILDREN PILLARS: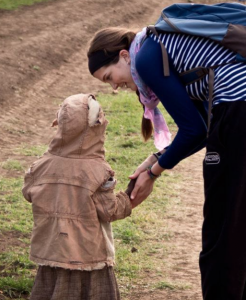 Free the Children follow an Adopt a Village system. This system is made up of four pillars; the health pillar, alternative income pillar, water pillar and education pillar. Each of these play a crucial role in helping to ensure that the initiatives that Free the Children stand for and bring into the communities are sustainable. Sustainability is essential for creating and maintaining the beneficial pillars in the community. Free the Children believe in 'a hand up, not a hand out' and they do this by empowering the people of the communities that they work in and are partnered with. This partnership develops a strong bond between the workers, volunteers and people of the community. Without this bond that Free the Children has established, helping to create a sustainable community would be much more difficult. With everyone working together equally, the Adopt a Village system is more easily able to flourish and empower the community members.
HEALTH PILLAR: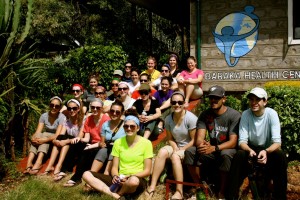 The Baracka Health Centre is made up of friendly doctors, pharmacists and a lab technician. The Health Centre follows western medical standards. When patients visit the health centre they are seen and treated according to the severity of the sickness or injury. They are first brought into the consultation room, then the examination room, followed by the surgery room (if need be). There is also a recovery room that can hold two patients at a time. Patients are never kept over night, as there isn't enough space or staff to make this option a reality at this time. There is also a laboratory; this is where patients are tested for different diseases and where the medicine is kept. Each patient that visits the health centre is required to pay a commitment fee and if they need medication, a prescription fee as well. The last rooms are for the pregnant Mamas. These rooms are used for checkups during the pregnancy and for checkups once the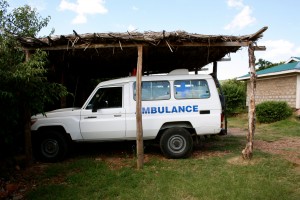 child is born. The health centre promotes a healthy home and lifestyle so there is 'Elle's Garden', which is a garden used to show the patients and other community members how to plant and maintain healthy crops and what crops are best to eat. The medication and prescriptions used are all donated to the health centre. Thanks to these donations many of the people of the community can feel better and stay healthy.
ALTERNATIVE INCOME PILLAR:
The alternative income in the Enelerai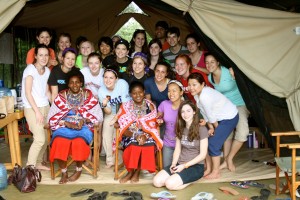 community is beading. The Mamas of the community are supplied with beads by Free the Children and with these beads they make jewelry, belts, key chains and many other things. This opportunity gives the Mamas the chance to help support their families. Mama Laya and Mama Gladys came to teach us how to bead. We beaded key chains – well it was more of an attempt to bead the key chains but it was a lot of fun! The Mamas were so helpful in sharing their expertise with us and we all enjoyed the experience as we tried to complete our task. We all worked on the key chains for about 2 hours and completed a maximum of 7 rows and the Mamas said that they could complete an entire side of a key chain in 20 minutes. These Mamas are talented, happy and proud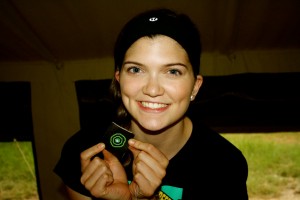 of their accomplishments with the alternative income system that they are involved in. After having the chance to try the beading I was completely in awe of the skill that these Mamas have. They work hard with love and hope, and that is something that I took away from the beading experience. When you put your heart into a task no matter what, it can be seen in the result.
WATER PILLAR: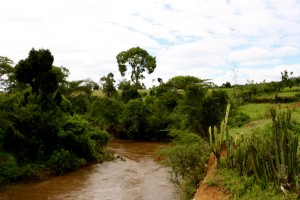 We had the opportunity to help the Mamas in the Enelerai Community to collect water for their families. The Mamas usually walk approximately 3-6 km to get water and they have to do this multiple times a day. The Mamas we collected water for were Mama Judy and Mama Melina. Together we collected the 20-liter jerry cans and made our way to the water source. As we were walking there I wasn't sure what to expect, but soon enough I saw. The water that we were collecting was brown in colour and was flowing down a river. This water was not clean, but would be used for laundry, bathing, cleaning, and cooking. Once the jerry cans were filled we began the walk back to the Mamas house in partners. The jerry can was carried by putting the rope attached to the can across your forehead and then resting the can on your back and holding on to the rope on either side of your head. This was something I could never have imagined or completely understood until taking part in this important daily activity that the Mamas do. We only had to walk 1 km and were able to switch back and forth between partners, but it didn't make the task much easier. The pain and exhaustion felt throughout this walk I will never forget. We take water and our easy access to it for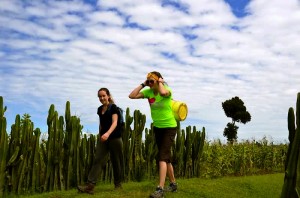 granted everyday. Being home from the Mara whenever I am using water I flashback to that day and all of the emotions and feelings flood my mind. Thanks to Free the Children there is also access to clean water. At the gate of Enelerai Primary School, Kissaruni Girls Secondary School and Emori Joi Primary School there is a well that people can collect the clean water from.
EDUCATION PILLAR: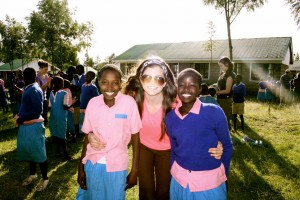 Visiting Emori Joi Primary School was truly inspirational. The entire school community welcomed us with open arms and they were all so full of energy and life. From the soccer games to the hand games, we played, talked and learned about one another the entire time. Two 12-year-old girls became very special to me. Their names are Ruth and Facity. They told me about their passion for learning and their love for school. As well as how they aspire to be a teacher and a nurse. These girls and their enthusiasm sparked the motivation inside of me. Through this experience I learned WHY I was there. I was
there to give a helping hand, to form new friendships, but most of all I was there to learn from the remarkable people I am so blessed to have met. Ruth and Facity, though only 12-years-old, will always hold a spot in my heart. Knowing their dreams and hopes for the future help me to understand and appreciate everything that I have and everything I can do as well.
I'd like to leave you with this thought. I feel as though it is important that we don't feel guilty that we have access to clean water, nourishing food, easily accessible health care and a thriving education system. But acknowledge our duty to take this as an opportunity to help make a difference both locally and globally, to make change; to be the change.
Thank you to the Miss Teen Ontario East and the Miss Teenage Canada Pageant Committee's, especially Michelle, for making this dream become a reality!
"Never doubt that a small group of thoughtful, committed citizens can change the world. Indeed, it is the only thing that ever has." – Margaret Mead
Tuko Pajoma Rafikis,
Caroline Holley