MTC-W kicked off the beginning of an action packed week with a meet and greet with some of the 2012 MTC-W sponsors including S-Trip, Sallazzo Slippers and Cheeky Monkey Cosmetics.  The 66 gorgeous contestants filled the banquet room at the Westin Bristol Hotel, wearing their pretty dresses, sashes and fancy shoes.  Each one of them showing off their individual style and smiles.  The teen girls circled the room in groups visiting each sponsor and collecting generous swag bags filled with amazing gifts.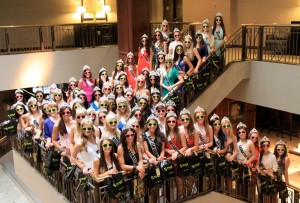 One of the Sponsors S-Trip – (http://www.s-trip.com/) seem to have the girls really excited.  S-Trip is the largest North American travel company for students.  They provide schools with the tools to plan safe supervised trips to over 40 destinations all over the world.  This is a great way to give parents a peace of mind to allow their young adults the freedom to travel safely.  S-Trip has generously donated 2 free trips – one going to the overall winner of MTC-W 2012 and the other going to the winner of the new title of Miss Social Media Queen.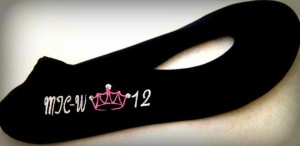 Over at the next table, all the ladies are lined up to receive the exclusive monogrammed MTC-W 12 slippers provided by Salazzo Slippers (http://www.sallazzo.com/) . These comfy stylish slippers provide the girls with a well-deserved break from their high-heels at the end of a long day of rehearsals and events. As soon as the girls received their new slippers they put them on for some cute footsie photo opps.  Miss Teenage Canada ladies aren't the only ones in on this comfy stylish secret for the soles (of our feet). Famous Canadian crooner Michael Buble
ordered hundreds of them for his wedding guests.  After a night of dancing, I'm sure you can imagine why.  Sallazzo slippers come in many different shapes, sizes and styles for everyone and can be worn in gymnastics and dance too.
Cheeky Monkey Cosmetics –
Cheeky Monkey Cosmetics – (http://www.cheekymonkeycosmetics.com/) offers you a fun and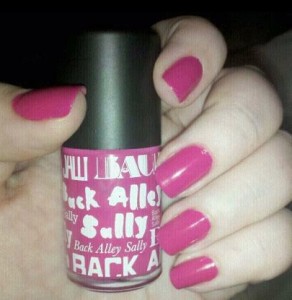 "Cheeky" way to share a laugh with your best friend.  One couldn't help but notice the smiles and giggles coming from this sponsors table.  With fun names such as "As If", "Whatever" and "Dancing Queen" these nail polishes, which come in 55 different shades are formaldehyde free.  All colours come with their own over-the-top name which are sure to warrant a laugh or two.  Each contestant was given her own polish and mini-manicure kit to take home.  Be sure to check out the 66 contestants fingers in toes as they grace the stage of the MTC-W pageant wearing Cheeky Monkey Cosmetics.

MTC-W 2012 is going to be a great one.  You can support the girls via Facebook fan pages or Twitter.  Also, you can show your support by attending the pageant on July 21st 2012 in Toronto by purchasing tickets at http://tickets.ticketwindow.ca/eventperformances.asp?evt=1376&c=93&pg. The girls would love to see you there.