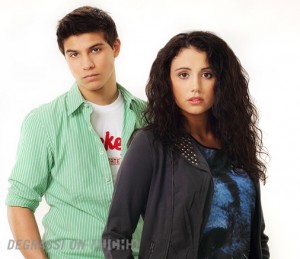 On Wednesday night the girls were cheering and bursting with energy because they got to meet one of our hosts for the Miss Teenage Canada 2011 show. Luke Bilyk, with his dashing smile, was walking around shaking the young ladies hands. He introduced himself to every girl, making sure he memorized their names and got the pronunciation just right. Continuous cheering and excitement filled our rehearsal room. After he got through the 74 girls, he took some pictures and signed autographs. The other host of the show is Alicia Josipovic; unfortunately she couldn't make it to the meet and greet with the girls but we are sure they will get along perfectly well on Saturday. Our musical guest for the evening is Danny  Fernandes. Here is a little bit of info on them to get you ready for Saturday.

Alicia Josipovic hosts Miss Teenage Canada:
Known for her role as Bianca Desousa on Degrassi , Bianca is extremely excited to be part of the Miss Teenage Canada. She is a down to earth and radiates beauty from the inside out. Alicia began her start to stardom as a regular on the Family series Abra Ca Dabra. She has a strong love and compassion for animals. She is a proud member of PETA and owns 2 wonderful cats. Alicia is known for her strong passion and always standing up for what she believes in. She is fierce, independent and always ready for whatever life throws her way.
Luke Bilyk hosts Miss Teenage Canada:
Luke Bilyk is known as drew to the Miss Teens and Degrassi fans. He received his training at the Toronto Academy of Acting and enjoys playing sports. Some of his favorite sports are hockey, football, swimming and volleyball. In 2010 Luke travelled to India with Free the Children (partners of the show and Miss Teenage Canada) to help build a school. A documentary was filmed of him and his cast member's experiences and was aired on Much Music.  Luke is known for his killer smile and down to earth attitude. He is very excited about taking part in this year's Miss Teenage Canada show and was very sweet and polite when meeting the girls.
Danny Fernandes, musical guest of Miss Teenage Canada :
The great talent Danny Fernandes will be our musical guest for our show on Saturday. He is known in the music industry for his 2008 hit single Fantasy. His start to fame came at the age of 16 when he became the youngest member of the Raptors Dance Pak. Later on, Fernandes signed with Capitol Prophet records (CP). Danny Fernandes, along with his brother Shawn Desmond opened up the 2011 JUNO awards with an impressive performance along a lineup of backup dancers. His talent transcends the industry with it's style and attitude. We are very happy to have him be part of the Miss Teenage Canada show.
We look forward to seeing you all on Saturday. The show will be at the Queen Elizabeth Theatre.  Preparations are underway including my own trip to a Toronto dentist for smile restoration. Stay tuned for more updates on the girls and how they are preparing for the show.