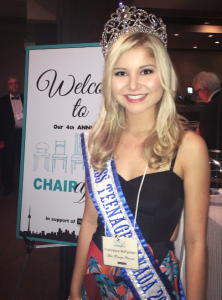 This past Wednesday, I had the pleasure of attending Chair Affair, a fundraising gala in support of Furniture Bank. The Furniture Bank is a charity and social enterprise that transfers gently used furniture and household goods donated to them to people who are in need. 
The first time I visited Furniture Bank, I was inspired from the get-go by their commitment to empower lives. When the team asked me to design a chair for their upcoming event I was incredibly excited and got to work right away.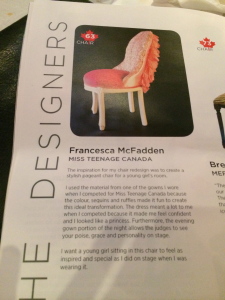 My chair was featured in the silent auction along with 30 other beautifully refurbished chairs.
 "The inspiration for my chair redesign was to create a stylish pageant chair for a young girls room. I used the material from one of the gowns I wore when I competed for Miss Teenage Canada because the colour, sequins and ruffles made it fun to create this ideal transformation. The dress meant a lot to me when I competed because it made me feel confident and I looked like a princess. Further more, the evening gown portion of the night allows the judges to see your poise, grace and personality on stage. I want a young girl sitting in this chair to feel as inspired and special as I did on stage when I was wearing it."
The event was a huge success and I had the pleasure of meeting some fantastic people, including a few young fans. One lucky girl, walked away feeling like a princess with her new Miss Teenage Canada throne.
Check out more photos HERE!
Until next time,
Francesca 🙂