17 year old Jacklynn Bowdery from Bradford, Ontario is your new Miss Teenage Canada 2021!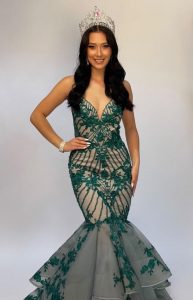 Jacklynn is a kind, fun loving, adventurous teenager who enjoys watching anime and reading books. She is a very studious teenager who not only excels academically but also artistically. Jacklynn has been dancing ever since she was three years old and is highly experienced in a variety of different dance types. This includes Irish dancing, jazz, contemporary, ballet, tap and hip hop. Besides all the glitz and glam, Jacklynn is a huge nerd who loves Star Wars, Harry Potter and superheroes. Presently, she works at a LTC facility.
In the future, Jacklynn would like to pursue a career as a rehabilitation physiotherapist since she has a passion for learning more about the human body and helping others. She would also like to continue her advocacy for her platform which is suicide awareness in the youth.