Jillian Martin, Miss Teenage Canada 2013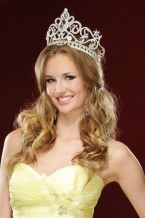 Jillian is a talented, compassionate and motivated young lady. She loves the beauty and diversity of other cultures as she has had the opportunity to travel to Japan on a student exchange and a French Immersion program in Quebec where she met people from various parts of the world.
Jillian showed great leadership in her high school years being involved with the SRC, Lead and Dance captain for the school musical, choir, dance academy, pom team, cheerleading team and manager of the junior and senior football teams. In addition to these activities, Jillian also makes time to help out in her community, including Youth in Action, Assistant Dance teacher, Child PAAL program, Team Captain for Relay For Life, and other clubs that focus on helping others.
Jillian studies at the University Of Saskatchewan with plans to enter the field of sports medicine. She is on the University Cheerleading Team that competes nationally every year, a club cheerleading team and she volunteers as a coach for a high school cheerleading team as well as a younger team at her club. No matter how much she takes on, she gives each task her best effort and does so with enthusiasm that positively affects whomever she is working with.