Judges
Miss Teenage Canada strongly believes that each finalist in the competition deserves fair and equal consideration. Therefore, we select those individuals who are the best in their field and they are chosen from a variety of fields such as Modeling, Television, Magazines, Pageantry and more. There will be up to six judges scoring in a compulsory categories and each one will be looking for specific qualities that reflect the individual's leadership, poise, commitment, presence and behavior.
Meet Our Judges
Maureen Fenn (Moe)

Maureen is a seasoned expert in the art of guiding people from all walks of life. She shines when it comes to helping them to find their place in the world through counseling, motivating, and coaching.
Maureen had great success as a founder and co owner of a prominent Toronto based recruitment firm for many years. After 16 years, Moe's next career had her matching people once again; only this time in the role of the Executive director of the largest modeling and acting academy in North America. Not one to give up on enhancing peoples' lives, she became the leader of a successful team of relationship consultants – (who matched romance seekers and life partners) across the GTA.
Moe joined the team of career matchmakers at DWP in 2008, bringing with her a colourful persona, joie d'vivre, and contagious enthusiasm.
Aside from her obvious flair for style and fashion, Moe has enjoyed time as a baseball player, drag racing competitor, an active volunteer counselor with the breast cancer society, and a motivational speaker to college students!
In addition to this busy schedule – Maureen is often found on the side lines!!! Still motivating, still coaching – supporting her young grandchildren's hockey "careers'.
Angeline McDonald – Owner, Bells & Bows Bridal Centre.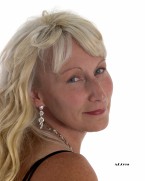 Angeline McDonald is the owner of "Bells & Bows Bridal Centre", an accomplished businesswoman and premier supplier of pageant, graduation and bridal gowns.  She has been in the bridal industry for over 20 years.  Angeline recognizes the contributions pageants make to women's lives worldwide and that "Glamorous has no Limits" and therefore travels Internationally.  Delegates look for the most fabulous gowns on the planet to take stage with.  The gowns worn in pageants are trendier and more stunning for 2013 and 2014 than ever before.  "Bells & Bows Bridal Centre" has become a leader in providing cutting edge fashion with unbeatable service and has been setting the standard in the bridal industry since 1985.  Special highlights for Angeline include being the official wedding planner for Wedding Wish 2008-09 (Global TV), astounding stage shows across provinces and the winner of "Best of the Best 2010, 2011, 2012, and 2013 Bridal Centre" for Southern Alberta.  Angeline's Hallmark is providing brides and young women who are graduating as well as pageant delegates a gown of their dreams.  As the Regional Director for Canada in the Association of Bridal and Formal Attire Retailers (ABFAR), Angeline works with manufacturers and retailers to implement ethnical and responsible standards for the operation of full service bridal and social occasion boutiques.  In addition, this organization works to educate clients on the benefits of patronizing full service bridal and occasion stores.  Serving on local entrepreneurial organizations, Angeline has shared her vast experience on compliance committees as well as with strategic planning committees.  Numerous awards have been given to "Bells & Bows Bridal Centre" for their participation and support of the Off-Campus Education Program and work experience programs within the store and a proud sponsor of Leaders of Tomorrow as well as featured in a special edition magazine "Profiles of Excellence".  Angeline believes that true success is driven by the passion for a dream that cannot be denied.  It is carried to its goal by a focus that is unrelenting.  It is driven by actions that will not be contained, and driven by a force that knows no failure.  Angeline believes that one should "Be your kind of Beautiful and let your Dreams take Flight." 
Please visit our website atwww.bellsandbowsbridalcentre.com
Gail McInnes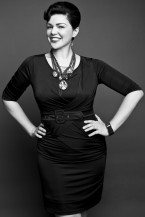 Glasgow-born, Toronto-based Gail McInnes has been involved in the fashion industry for over sixteen years. She is the owner of fashion publicity agency Magnet Creative Management and co-owner of the exclusive fashion showroomStylist Box. She brings her inherent Scottish charm to her role as fashion host for TDot TV and is a freelance fashion reporter having written for FLARE.com, The Huffington Post, Global News, and more.
Her expert view into the world of style is often called upon for various television appearances, including CBC News, The Morning Show, and CTV News. Gail gained international recognition in 2011 when she was nominated as "Communicator of the Year" by the Scottish Fashion Awards, in association with VOGUE.com.
She also devotes her time to furthering the careers of young fashion entrepreneurs through the esteemed Toronto Fashion Incubator (TFI) and as a guest speaker and judge at various colleges and universities.
Matthew Collins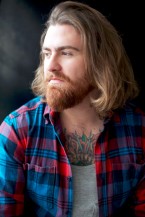 For Toronto born artist Matthew Collins, styling hair is a career comprised of strong passion met with exceptional talent and creativity, with more than 12 years of experience as a skilled stylist and colour technician.
An ID Artist for L'Oreal Professionel and a Canadian H3 Expert, Matthew's dedication to the art of hairstyling led him to be awarded L'Oreal Professionel's 'Canadian Runway Stylist of the Year'. His impeccable work has been featured in glossy publications ZINK Magazine, Gasoline Magazine, Eye Candy Magazine, and TCHAD. He has been the stylist the hosts for the official MTV Canada publicity shoot, and was profiled on MTV Fora, MTV's official beauty, fashion and lifestyle blog. Matthew has styled on-air hosts, artists, and musicians on national and international television broadcasts including Project Runway Canada, MuchMusic Video Awards and The JUNO Awards. He has strong, long-term working relationships with musicians including renowned recording artists Down With Webster, All Time Low, and 3 OH! 3. His work is regularly seen at shows during Paris Fashion Week and Toronto Fashion Week and recently, Matthew was on the expert panel of E! Network's Celebrity Style Story and as a stylist on the Steven and Chris Show.
Matthew's work can be seen everyday across the country, as he is the official hairstylist to the hosts of New.Music.Live. He is also the proud co-owner of Brennen Demelo Studios in the heart of downtown Toronto.
Chelsae Durocher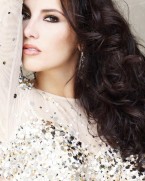 Chelsae Durocher graduated from the University of Windsor with Honors, and is currently continuing her education in hopes of becoming a future teacher. As a former contestant in the Miss Teenage Canada Pageant, Chelsae had the opportunity to compete both nationally and internationally. She went on to compete at Miss Universe Canada 2011 where she won, gaining the chance to represent our nation at the 2011 Miss Universe competition in Brazil. She continues to volunteer her time with numerous charities, and makes public speeches on topics such as self-esteem, bullying, and communication skills.
 Sarah Fisher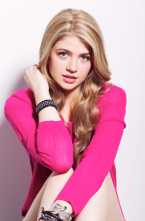 Sarah Fisher is a young singer, songwriter, model and actress from Toronto. She began her recording career at the age of twelve and has won numerous singing awards in Ontario.
She is classically trained by Kim Briggs (RCM grade 9) and is also coached by Elaine Overholt at Big Voice Studios. She studies piano (RCM grade 8) under the direction of John Agius and writes and composes her own songs.
Sarah studied dance for thirteen years at the Roland and Romaine school of dance in Toronto. She pursues her acting studies at the Dean Armstrong Acting School in Toronto and currently plays the role of Becky Baker on Degrassi.
Sarah models for Elite Models International.
 Christina Cravero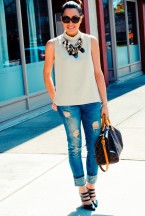 Being born in Singapore, having European blood, and the opportunity to live on three continents and in four countries, this Toronto based style blogger is fortunate enough to have seen fashion from all aspects. With a mother/role model in the fashion accessories business in the late 1980s and early 1990s, fashion has been in Christina's blood from a very young age. As the VP of the family company, Christina, who writes The Style Mogul, is a home stager by day and stylist by night. Dreams do come true for this world traveler, as she is the first ever Canadian to be featured on the iPhone App, FashionFeed, a fashion segment host for Breakfast Television Toronto, sits on Fashion Magazine's Style Panel and has collaborated with fashion/beauty companies and brands from around the world, such as Ann Taylor, Aldo, Maybelline, and so many more! Keeping her style trendy, Christina makes sure she incorporates every part of the world she feels a connection with, especially Europe. She is a lover of neon, shoes, anything that sparkles and drinks with umbrellas.
 Ayten Archer
Ayten Archer is an award winning professor, academic business competition coach and community leader.  Archer is also the Canadian director for US-based Inroads a world leader in talent acquisition and diversity management for Fortune 500 companies.  Ayten has been the recipient of over 35 teaching, coaching and industry leadership awards that include World Health Organization Social Marketing, Saskatoon Community Leader, Province of Saskatchewan Centennial Leadership Awards, Canadian Entrepreneurship John Dobson Fellow of the Year Award, University of Saskatchewan Students Union Excellence in Teaching Award, University of Saskatchewan N. Murray Edwards School of Business Students Society Most Effective Professor & Somers teaching awards and was named for 5 consecutive years in Maclean's Guide to Canadian Universities as one of the "Most Popular Professors" at a Canadian University.  Archer is honoured to be a returning judge for MTCW since she believes this particular pageant under the leadership of Michelle has empowered young Canadian women to become community leaders. 
Belinda Kiriakou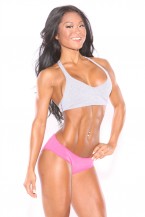 Celebrity weight-loss, yoga and lifestyle coach, Belinda Kiriakou is Canada's number one fitness magazine – Inside Fitness Magazine's Hot & Fit 100′s #4 two years consecutively. Belinda operates and trains clients in her own athletic and conditioning gym called Fight2BeFit in North York, Toronto, alongside husband and retired professional wrestler, George Kiriakou. Belinda is creator of fitness classes such as Yogacore Flow and Fight2BeFit Workouts, which fuse in yoga, high intense full body workouts and core exercises, all taught at her facilities. Belinda credentials include a B.A. in Psychology from York University as well as a joint program on Rehabilitation Services at Seneca at York U., ACE Weight-Loss & Lifestyle Coach and Level 2 Coaching at York University as well, and Power Yoga Flow. Also, Miss Universe Canada 2010′s Best Body and Audience Favourite, Belinda is Canada's leading personal trainers and has been incredibly successful in transforming her clients, such as Miss Universe Canada top 5 winners, Kate Starke and 24-hr winner, Denise Garrido. She has also trained other pageant contestants, competitive athletes, and Fitness Models. This Professional Fitness Model is a three time champion and is hoping to gain yet another victory – this time for a IFBB Pro Bikini Model status in 4 weeks at the CBBF competition in Vancouver, BC