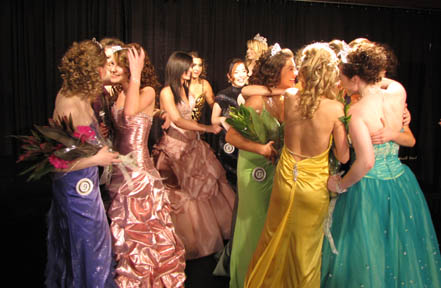 Benefits
While winning the title of Miss Teenage Canada is a great honour and a fantastic opportunity, the competition is also about self discovery and developing new skill sets that will give you a competitive edge as you enter adulthood.
All of our delegates have dreams and aspirations and we want to help make them a reality. There are countless benefits to applying for Miss Teenage Canada, and it all starts at the regional level. We believe that knowledge is power, and as such, provide each contestant with training and workshops to help them better understand themselves, the industry, and the world around them. Miss Teenage Canada teaches pubic speaking, seminars on how to ace interviews, etiquette as well as runway and stage presence coaching. Guidelines on the film and entertainment industry are a part of our extensive training and we also discuss the modeling and fashion world. The result is boosted confidence, lasting friendships and having the opportunity to shine in front of a welcoming audience as you grace the stage and speak about your beliefs and dreams. Receiving a regional title will give you the chance to be interviewed by local media and have an unforgettable year. At the national level there are over $25,000 in cash and prizes to be won, including scholarships for skills in academics, modeling, acting, leadership and more. Miss Teenage Canada wants every girl to have the opportunity to showcase their talents, and show Canada and the world what they've got.
Winning the grand Title of Miss Teenage Canada  will open a realm of opportunity that will enrich your life and give you exciting and varied new experiences. Shortly after your crowning you will be competing in an International Miss Teen Pageant; don't forget – we are the only pageant that qualifies you for this honour! As the reigning title holder you will be taking centre stage to represent Canada as an ambassador and spokesperson through events, interviews and speaking engagements. You will be photographed, receive a full modeling portfolio and travel across Canada. You will also be provided with a competition and appearance wardrobe, hair services and much more – all expenses paid! You will also embark across the globe with Free the Children to do your part in helping the global community.
Remember it is your title to own so "Stand up, stand out, and be your own kind of beautiful"